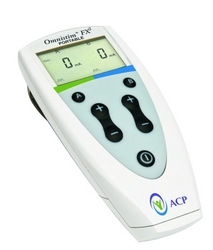 Studies confirm that conservative treatment can be effective for knee osteoarthritis
Reno, Nevada (Vocus) February 10, 2009
Accelerated Care Plus (ACP) announced today the introduction of an innovative new therapeutic treatment program for osteoarthritis of the knee. The program combines several conservative treatment protocols including ACP's patented "Patterned Electrical Neuromuscular Stimulation (PENS), traditional TENS electrical stimulation, a specialized knee brace and therapeutic exercise to treat knee osteoarthritis without medication or surgery. The therapeutic interventions used in the program are well supported by scientific research and have demonstrated their ability to manage the pain associated with osteoarthritis of the knee, while improving joint function.
Knee Osteoarthritis is a prevalent condition affecting over 10 million Americans – most of them 65 years of age or older. People who suffer from knee osteoarthritis experience mild to severe pain when walking, climbing stairs or sitting. These symptoms can make normal activities difficult and often reduce overall "quality-of-life." Without effective treatment, knee osteoarthritis may also lead to more serious conditions, including accidental falls.
"Osteoarthritis of the knee is commonly treated with anti-inflammatory drugs such as ibuprofen, aspirin, naproxen or Celebrex", said Dr. Frank Palermo, ACP's Medical Director and a specialist in geriatric rehabilitation. "Unfortunately the side effects, drug interactions and other risks associated with these medications can be significant, particularly with long-term use. They also don't address the underlying conditions that accompany knee osteoarthritis, which may include muscle disuse atrophy, joint instability and limited range-of-motion. ACP's new program uses a more comprehensive approach to the condition that manages pain and targets these key areas to improve overall knee function."
ACP's new knee osteoarthritis program was successfully piloted in several Midwest LTC and Miller's Merry Manor facilities in 2008. The Company is now rolling out the program on an enterprise level with its 3000 partnering Long Term Care, Outpatient and Home Health clients throughout the U.S. The therapeutic program is administered by specially trained physical and occupational therapists in a rehabilitation facility or in the patient's home.
Treatment "at home" is now possible with the introduction of ACP's new "Omnistim® FX2 Portable," a hand-held electrical stimulation device, incorporating the same patented medical technology used for many years by professional sports teams, Olympians and other elite athletes to improve function and recovery following injury. The system provides TENS and NMES electrical stimulation waveforms to block pain messages to the brain and create involuntary contractions to address weakened muscles.
ACP's specialized knee osteoarthritis brace can also be used by patients in the home or under the supervision of therapists in a rehabilitation setting. The brace relieves pressure on the knee joint and establishes proper alignment by use of air bladders. The brace also provides dynamic extension assist to help retrain abnormal gait. These features among others, help reduce pain and slow progression of the disease.
"Studies confirm that conservative treatment can be effective for knee osteoarthritis", stated Dr. Chris Castel, ACP's Chief Scientist. Given the prevalence of this condition, and the risks associated with medications and surgical procedures, we felt there was a compelling need to create an integrated program combining these technologies and techniques."
About Accelerated Care Plus
Accelerated Care Plus (ACP) is a medical device manufacturer and the nation's leading provider of specialty clinical programs for long-term care facilities and other rehabilitation providers. Fifteen years in development, the programs are now used by thousands of facilities throughout the US. ACP's comprehensive programs include patented medical equipment, proprietary clinical protocols, on-site therapist training, and on-going support. For more information call 800-350-1100 or visit http://www.acplus.com.
###