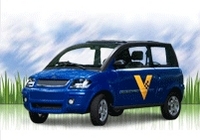 Sponsoring the 'NAB Show Green Car Giveaway' is a spectacular opportunity for us to make a positive impact in both the market and our environment
Springfield, MA (PRWEB) February 12, 2009
VCI Solutions, a provider of software solutions for broadcast and cable operations, has launched a new VZN Social Media Campaign. What is VZN? VCI Solutions, ZENN Motors, and the NAB Show (VZN) have all partnered to support the giveaway of a 100% green car on 'Earth Day' Wednesday April 22, 2009 at this year's NAB Show. The VZN Social Media Campaign leverages the partnership between all three organizations to bring awareness and build momentum for their respective brands and the actual giveaway; while reinforcing messaging to better protect our environment.
"We are pleased to be working with VCI Solutions on this campaign, which underscores the NAB Show's 'green' efforts," said NAB Senior Vice President of Convention Marketing Michelle Kelly. "Using social media to drive show attendance serves as a boost for both the NAB Show and our exhibiting partners."
"Sponsoring the 'NAB Show Green Car Giveaway' is a spectacular opportunity for us to make a positive impact in both the market and our environment," said Deanna Kennedy, Director Marketing Communications, VCI Solutions. "In recognizing that opportunity, we looked to increase the brand and green awareness that it provides, by not only engaging actual show attendees while in Las Vegas, but by also generating an online audience through various social media networks."
At the heart of the VZN Campaign is the actual green car being given away, now known as Victor Vision. Victor, who has literally come to life online, is an iconic representative and spokesperson for the VZN campaign. It is his through his engaging personality that the momentum and awareness of this campaign are building. All three partners, VCI Solutions, ZENN Motors, and the NAB Show have linked their social media marketing activities to this integrated campaign. The VZN Social Media Campaign, featuring Victor Vision, reaches out across Facebook, YouTube, Twitter, and even has its own blog.
To unlock the VZN Social Media Campaign online visit http://www.vcisolutions.com/victorvision.
About VCI Solutions
As a steadfast contributor to the media market for over 24 years VCI Solutions has become a trusted and reliable business partner for the future. VCI Solutions is committed to the success of their clients by providing them the tools, flexibility, and knowledge they need for growth. VCI Solutions' product portfolio is comprised of the Orion® business system, autoXe™ automation systems, and the advanced Xe™ platform. All of these products are designed to streamline media operations to create a more efficient workflow and higher revenue. VCI Solutions continually enhances their products and services for the ever-changing market, so that their clients stay ahead of the curve with a competitive advantage.
###