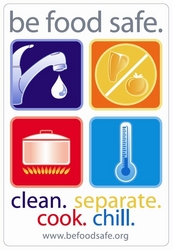 Temperature and time cause bacteria to grow which is why it is so important your refrigerator be cold enough and you not keep leftovers too long
Washington, DC (Vocus) February 10, 2009
The Partnership for Food Safety Education reminds consumers of helpful food safety tips during a time of tight household budgets.
In this time of economic uncertainty, Americans are economizing and stretching every dollar. For many consumers this includes cooking and eating more meals at home and saving leftovers. The Food Marketing Institute (FMI) U.S. Grocery Shopper Trends 2008 report states that 71% of consumers surveyed cook more and eat out less. FMI Trends also showed that 58% report eating more leftovers or using leftovers to make other meals.
As consumers economize by preparing more meals at home, it is essential they follow safe food handling practices. This includes eating, freezing or discarding refrigerated leftover food within 3 to 4 days.
"Temperature and time cause bacteria to grow which is why it is so important your refrigerator be cold enough and you not keep leftovers too long," said Shelley Feist, Executive Director of the Partnership for Food Safety Education. "There is a limit to how long food can be safely kept."
The Partnership reminds consumers of food safety practices that should consistently be followed when storing and heating leftovers.

Always wash hands with warm water and soap for 20 seconds before and after handling food.
Temperatures between 40° F and 140° F allow bacteria to grow rapidly. Refrigerate cooked leftovers promptly - within 2 hours; 1 hour when the temperatures are over 90° F. Use an appliance thermometer to ensure that your refrigerator is always 40° F or below.
Divide leftovers into smaller portions and store in shallow containers in the refrigerator. Hot food can be placed directly in the refrigerator.
Leftovers should be reheated to an internal temperature of at least 165° F. Use a food thermometer to check the internal temperature. Sauces, soups, and gravies should be reheated by bringing them to a boil.
When microwaving leftovers, make sure there are no cold spots in food (where bacteria can survive). Cover food, stir and rotate for even cooking. If there is no turntable, rotate the dish by hand once or twice during cooking. Reheat to 165° F as measured with a food thermometer.
Buying food in bulk can be a money-saver. Remember, whatever the quantity of food - safe handling is a must! Large packages of perishables like raw ground meat and poultry products can be refrigerated for 1-2 days, but then the food should be cooked or put in the freezer. Meat and poultry will stay safe indefinitely in the freezer. However, from a quality standpoint, it is recommended that frozen meat and poultry be consumed within 3 to 12 months.
Following the Be Food Safe practices of Clean, Separate, Cook and Chill will help prevent foodborne illness and keep consumers healthy as they stick to their budgets! Consumers can download a flyer containing additional information about leftovers at http://www.befoodsafe.org/consumer_brochure.
The Be Food Safe campaign, introduced by the US Department of Agriculture and the Partnership for Food Safety Education, is aimed at reducing foodborne illness by making sure consumers get the information they need to achieve and maintain safe food handling behaviors.
Be Food Safe retailers represent nearly 8,000 stores reaching millions of consumers with consistent reminders about how to safely handle food to reduce risk of illness. These food retailers bring Be Food Safe messages to their customers through in-store signage, brochures, flyers, packaging and circular ads, in-store events and other special promotions. Consumers can download and print their own Be Food Safe basic brochure for home use from the website at http://www.befoodsafe.org.
About the Partnership for Food Safety Education
The Partnership for Food Safety Education unites industry associations, professional societies in food science, nutrition and health, consumer groups and the United States Department of Agriculture, the Environmental Protection Agency and from the Department of Health and Human Services, the Centers for Disease Control and Prevention and the Food and Drug Administration, to educate the public about safe food handling and preparation. The Partnership, a non-profit organization, is the creator and steward of the Fight BAC!® campaign, a food safety education program developed using scientifically based recommendations and resulting from an extensive consumer research process. Fight BAC!® materials are fully accessible online at http://www.fightbac.org and utilized by consumers, teachers, dietitians, public health officials and extension agents across the United States.
# # #