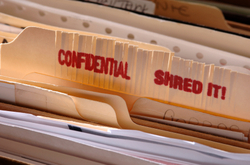 What most people don't understand it that tax season is also the peak of identity theft season
Lakewood, CO (PRWEB) February 24, 2009
At this time of year most everyone (excluding future cabinet members) is busy preparing federal tax returns. Every day sensitive tax documents arrive in the mail and include information that hold the key to your identity.
"What most people don't understand it that tax season is also the peak of identity theft season," says Steve Hastert, president of ShredNations.com, a document shredding company. "Every business and household is a potential target."
Once a thief has these sensitive tax documents in hand, Hastert says, they can hijack an individuals identity. "Identity thieves can use this information to open a new credit card or loan, gain access to your bank accounts, use it to get a job with a clean criminal record, or even to give it to a police officer if they get arrested while committing a crime."
As tax forms start coming in the mail, Hastert says it is important to store only documents that are essential -- and shred the documents the IRS doesn't require you to keep on hand. The IRS provides a full record retention schedule on its website (IRS.gov).
Here are some tips on how to minimize the risk of identity theft this tax season:
-- Document Security
Monitor the mailbox. If a residence doesn't have a locked mailbox, then it is important to bring in the mail as soon as possible. Also, when mailing federal and state tax returns, take them to the post office or better yet use electronic filing.
At home, keep tax paperwork in a locked file cabinet or safe. These valuable documents don't belong left on a kitchen table or in a shoe box under the bed.
It is unwise to store documents that are no longer required. They don't provide any value and can be used by identity thieves. Once you have finished your taxes it is time to shred the documents you don't require and past returns that can no longer be audited. It is also a good time to go through all personal files for expired documents that include social security numbers, financial statements, outdated insurance forms, and loan documents.
After cleaning out the filing cabinet, there is likely to be a substantial pile of documents to destroy. Either use a home shredder or consider hiring a document shredding service. A service not only makes a large shredding job easy, they recycle all the shreds and provide you with documentation of the work.
###