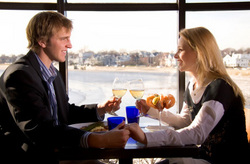 talks on a cell phone or texts during the date.
Orchard Park, NY (PRWEB) February 11, 2009
With Valentine's Day only a few days away, you may be busy planning a romantic evening for your significant other or putting the finishing touches on a first date plan with someone new. But, According to a survey* for ROHTO® eye drops, it's important to remember the basic rules of dating decorum to ensure your date doesn't end up "seeing red" - other than the roses.
Here are several things you can to ensure a great date.

Clean up: More than half (59 percent) of U.S. adults would see red if their date "has bad body odor or bad breath," and 11 percent would see red if their date is "badly dressed."
Leave the phone home: Almost half (46 percent) of adults would "see red" if their date "talks on a cell phone or texts during the date."
Ask questions: One in five (21 percent) adults would see red if their date "only talks about himself or herself" or "talks about his/her ex" (20 percent)
Limit your alcohol intake: Being with a date that "drinks too much" would cause 43 percent of adults to "see red."
Be nice to the staff: When their date "is rude to the waiter/waitress", more than four in ten U.S. adults (41%) would "see red."
On the other hand, if a great date has you "seeing red" from being out too late, reach for a tiny bottle of ROHTO® eye drops, which have a unique cooling sensation that soothes and moisturizes irritated eyes and removes redness, so your eyes can sparkle as bright as your post-date smile.
ROHTO® eye drops are available in three formulations - Cool, Ice and Arctic - and are available for a suggested retail price of $6.99 for a 0.4-ounce bottle at most drug, mass and grocery outlets nationwide, as well as online at drugstore.com.
For more information, visit http://www.cool4eyes.com.
*Methodology
Harris Interactive® fielded the study on behalf of ROHTO® eye drops from August 8-12, 2008 via its QuickQuerySM online omnibus service, interviewing 2,088 U.S. adults aged 18 years and older.
###