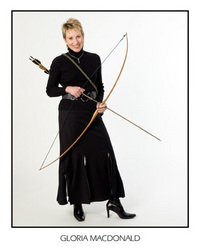 There is no recession in the matchmaking/dating service business
Toronto, ON (PRWEB) February 12, 2009
"There is no recession in the matchmaking/dating service business" says Gloria MacDonald, matchmaker, dating and relationship expert and founder of Perfect Partners: The Personal Relationship Executive Search Firm.
In the past six years, MacDonald has interviewed hundreds and hundreds of single men and women, and over and over again they say the same things. "They're looking for companionship; someone to share their lives with; someone to share the joys and sorrows with; someone to share the good times and the bad times with; someone to come home to at the end of the day." Both men and women are looking for that special someone who they know will be there for them, for whom they are the most important person in the world. We all have an innate instinct and need for intimate companionship. "When times get tough, as with the economic turmoil we're experiencing now, it's natural for human beings to look for comfort in an intimate relationship," says MacDonald.
Recent reports substantiating MacDonald's theory have shown that although the economy is down, online dating is up. Thomas Enraght-Moony, CEO of Match.com said on a CNN interview last week, "Tough economic times that people are experiencing, is driving them to a site like Match.com to meet someone special."
"When the Dow dips traffic goes up on eHarmony and it's because people are coming to look for the right relationship," added Greg Waldorf, CEO of eHarmony.com.
This all makes perfect sense to MacDonald, who has seen record breaking revenues in her own Toronto based dating service, Perfect Partners. "Revenues were up 22% in Q4 of 2008 over 2007, and January '09 revenues were up 35% over the previous year," reports MacDonald. She explains " When we're feeling like our survival is being threatened our most natural instincts kick in. We literally can't keep ourselves from looking for love, and even more in difficult times, because we are born with the overpowering instinct to form relationships."
In her book, Laws of the Jungle: Dating for Women Over 40, MacDonald talks about this very point. "Scientists have come a long way in the last 50 years in explaining this instinct. In the 1950's, John Bowlby came out with his Attachment Theory which, stated basically, says that humans, like animals, have an instinct to bond. Not just because bonding gratifies our physical and emotional needs, but because bonding, in and of itself, is a primary human need. Furthermore, this instinct is activated at birth. Bonding, attachment, love: these things are all innate for us. We don't need to learn to do them. They come naturally. And male-female relationships are just slightly below mother-baby relationships in terms of survival and happiness."
So, not only is there evidence that the business of love is recession-resistant, there's also solid psychological and scientific research to back up the reasoning behind this.
About Gloria MacDonald:
Gloria MacDonald is a matchmaker, relationship expert and the founder of Perfect Partners, the Personal Relationship Executive Search Firm and Worldwide Associated Matchmakers. Since 2003 she has earned her guru status by working with hundreds and hundreds of 40+ single men and women and has introduced over 2500 couples. She has appeared on numerous TV shows, is often quoted in the press, and is well-known as an expert in her field.
MacDonald co-authored the book, Laws of the Jungle: Dating for Women Over 40. She also created a variety of other workbooks and CD/DVD programs including Flirting Made Easy, The 7 Attitudes of Highly Successful Daters, The Mini-Mind Management System, and The 90-Day Relationship Attraction Conditioning Program and is co-founder of The Relationship Summit.
With a Bachelor's degree from Boston University, a Master's degree from Lesley College in Boston, and 15 years experience building highly effective teams and partnerships in the corporate world, MacDonald has now turned her finely honed business skills to assisting professionals in the 40+ market in meeting, and partnering, with their ideal mate.
For more information on Perfect Partners products and services please visit http://www.PerfectPartnersTraining.com and http://www.HowtoBecomeaMatchmaker.com.
###