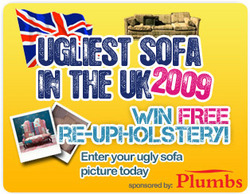 United Kingdom (PRWEB) February 13, 2009
To celebrate, S.O.S (http://www.saveoursofas.org) is launching a competition entitled 'Britain's Ugliest Sofa'. People are invited to upload pictures of their ugly, old-fashioned sofas that have seen better days.
Entries are submitted via the website, where visitors can vote on other entrants' worn out, retro furniture. The winner's couch will be fully reupholstered totally free of charge, courtesy of Plumbs Ltd.
Every year UK households throw away the equivalent of 3 ½ million double-decker buses (almost 30 million tonnes), a queue of which would stretch from London to Sydney and back. This campaign aims to help people extend the life of their sofas or provide environmentally friendly alternatives to landfill - helping people do their bit for the planet, by reducing their carbon footprint.
Visitors can explore S.O.S's greener solutions; re-use, recycle and refurbish, helping them choose the best option for them. The site provides contact details for furniture reuse and de-manufacture networks, as well as a number of cost effective refurbishing options.
About S.O.S
Established in February 2009, Save Our Sofa (SOS) is a campaign, designed to educate people on the alternative solutions to sending their sofa to landfill. SOS promotes the re-use of unwanted sofas, increasing the lifecycle of home furniture.
SOS aims to help inform people of alternatives to buying new, poor quality sofas. This website provides details of ways in which you can recycle, renovate or reuse your sofa.
About Plumbs
With seven laser cutters, and a team of 50 C.A.D. designers Plumbs will design and cut your made to measure covers to fit perfectly, right down to the smallest detail. This combination of traditional skills and the very latest technology produces individually hand tailored loose covers and reupholstered furniture with a superb fit.
###