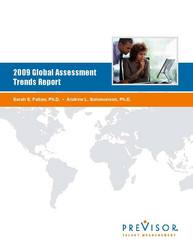 While the report findings must be tempered based on the disturbances in the global economy, the survey results may become even more relevant as organizations begin to increase their focus on internal talent as well as becoming more selective when hiring new talent
Atlanta, GA (PRWEB) February 12, 2009
PreVisor, the global leader in employment assessments and talent measurement solutions that connect employment decisions to business results, released its 1st annual Global Assessment Trends report today summarizing findings from over 170 companies representing nearly two dozen industries located around the world. This first of its kind comprehensive survey will help human resources practitioners and consultants evaluate their own practices related to assessing current and future employees.
The 2009 Global Assessment Trends Report (GATR) was completed in conjunction with U.S. and companies based outside the U.S. in Australia, Canada, India, United Kingdom, New Zealand, South Africa, and elsewhere. Most respondents worked within the human resources organization, with others representing operations, sales, training, IT, finance, and other.
"While the report findings must be tempered based on the disturbances in the global economy, the survey results may become even more relevant as organizations begin to increase their focus on internal talent as well as becoming more selective when hiring new talent," explained Dr. Sarah Fallaw, co-author of the GATR.
Key findings from the report include:

Top Talent Management Priorities for 2009 - Highest rated concerns globally were: external recruiting and performance management. The next top priority was split: for US-based companies it was internal promotion; for Non-US companies it was career development.
Confidence in Assessment Value - Nearly 95% of companies believe testing is a valuable part of their hiring process.
Preference for Simulation-based Assessments - While most organizations indicated this preference, not many are yet using them.
Plans to Expand Use of "Fit" Assessments - Organizations plan to increase the use of tests that measure candidates' interest in particular jobs, and likelihood of being comfortable within company culture.
Gap in Structured Leader Selection - While nearly 50% of clients stated that assessments for succession planning are critical, only 33% indicated that their company uses a structured process across all leader roles.
Talent Measurement Post-Hire - Increasing use of assessments for promotion, career development, skills gap analysis, and training needs were most cited.
"We see talent measurement evolving due to the changing nature of work, technological advances, and of course business needs," stated Dr. Andrew Solomonson, co-author of the report. "One of the developing trends we've been tracking suggests that the development of internal talent is an increasing focus for many organizations. In these tightened economic times, this trend is likely to become even more pronounced. Having a carefully constructed talent measurement process in place, that utilizes validated assessments, will be crucial to business success."
Noel Sitzmann, PreVisor CEO, agrees, "We are fortunate to serve some of the strongest client companies in their sectors. There are many reasons for this, but certainly utilizing best practices in their workforce planning and talent management contributes to the health and success of their organizations. Our research is undertaken to help our clients understand what works so they can have the data they need to manage most effectively."
Request a copy of the 2009 Global Assessment Trends Report (http://www.previsor.com/resources/gat/2009)
About PreVisor
PreVisor, the leading global provider of on demand pre-employment assessments and talent measurement solutions, helps clients connect employment decisions to business results. Following the rigorous standards of industrial-organizational psychology, PreVisor's assessment content accurately predicts on-the-job performance and supports fair hiring practices. PreVisor's solutions help streamline hiring, reduce recruiting and training costs, and improve corporate performance for clients worldwide, including more than 100 of the Fortune 500. http://www.previsor.com
Media contact:
Donna Lehman
MarketUP, LLC
770-565-7275
dlehman(at)market-up.com
###