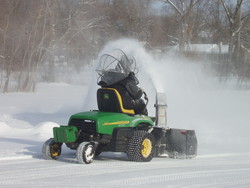 The usages for hands free are just endless
New York, NY (PRWEB) February 12, 2009
Nubrella™, hailed as the world's first true hands free umbrella that won't invert introduces its latest version, all clear, during the heart of another difficult winter.
Call it a "cycle" or call it "science" but storms seem to be getting stronger and more frequent so the need for a more durable all around superior storm proof umbrella couldn't be more prevalent. Alan Kaufman, Nubrella's™ inventor and CEO came up with the idea while living in New York; "It was a very rainy windy miserable day and I just began to take notice of how everyone was struggling with their umbrella. Out of no where an image appeared so I sketched it."
Now patented Nubrella™ is available to both US and International consumers. Nubrella™ claims to already have customers in over 35 countries and 47 states emphasizing Nubrella's™ mass appeal. "It seems as though people are ready for a new umbrella design that offers superior protection and hands free capability," he said.
With its sleek oval aerodynamic canopy wind simply flows over and around completely denying any ability to invert. With its extended coverage on all sides and offset handle users are kept drier and significantly warmer as Nubrella™ blocks wind chill!
Yet, Nubrella™ didn't stop there and has broken the barrier of a highly desired feature which is complete hands free capability. Nubrella™ rests on your shoulders and straps under your arms and will remain still even in significant winds.
Nubrella™ is not designed to replace the umbrella but to be a new line item in consumer's arsenal of weather protection gear. Everyone that buys a Nubrella will already own a regular umbrella but sees Nubrella offering solutions to the flaws and limitations of the umbrella.
"The usages for hands free are just endless," says Alan. "I have people riding snow blowers, cutting down trees, walking their dog, pushing the baby stroller or even users of wheelchairs." Anyone that works outdoors in the rain or snow could utilize a Nubrella.
Nubrella retails for $49.99 and is available at http://www.Nubrella.com. Nubrella has select distributors internationally and plans to rollout to retail distribution in the US in mid 2009.
For more information or for purchase please visit http://www.Nubrella.com or call 561-699-0222
###