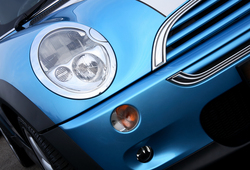 Cardiff, UK (PRWEB) February 13, 2009
Couples thinking of tying the knot, following a Valentine's Day proposal, could save up to 16%* on their car insurance, just by declaring their new spouse on their policy, according to the latest research from Confused.com.
Going online and comparing prices should get newlyweds the best deal. The average saving amongst the top ten insurance providers was £34, enough to have a dozen red roses delivered just in time for the most romantic day of the year.**
Newlyweds do not even have to change insurance providers to make savings; updating their marital status with their current insurer and pledging to share their car with their new spouse, as well as their lives could still save them pounds. Quotes run for a 35 year old Administrator driving a Vauxhall Astra show a saving of £22.73 from Hastings Essential.
Will Thomas, head of motor insurance at Confused.com, says: "Weddings are expensive affairs; however, it is some consolation that a new married status could save drivers up to 16% on their car insurance quotes. Yet, while there are some great deals to be had, shopping around for the best deal is essential as some insurance providers are less competitive in this field than others.
"Confused.com enables consumers to simultaneously compare car insurance prices from our extensive panel of insurance providers, and can deliver quotes in a matter of minutes. However, if drivers are not quite ready to love honour and cherish, then there are still savings to be made. With the average customer saving £206 on their motor insurance with Confused.com, it is definitely still worth a quick visit to the site."
*Saving calculated on the above profile.
figures correct as of 09/02/2009
** 12 red roses delivered - £29.90 from Iflorist.co.uk
For further information please contact:
Press office, Confused.com. 02920 434 398
Joanna Harte/ Karen Wagg, Polhill Communications. 020 7655 0550
Notes to editors
About Confused.com:
Confused.com is one of the UK's biggest and most popular price comparison services. Launched in 2002, it generates over one million quotes per month. It has expanded its range of comparison products over the last couple of years to include home insurance, travel insurance, pet insurance, van insurance, motorbike insurance, breakdown cover and energy, as well as financial services products including credit cards, loans, mortgages and life insurance.
Confused.com has a panel of 83 motor insurers, its typical customer saves up £206.16* on their annual car insurance policy.
Confused.com is not a supplier, insurance company or broker. It provides a free, objective and unbiased comparison service. By using cutting-edge technology, it has developed a series of intelligent web-based solutions that evaluate a number of risk factors to help customers with their decision-making, subsequently finding them great deals on a wide-range of insurance products, financial services, utilities and more. Confused.com's service is based on the most up-to-date information provided by UK suppliers and industry regulators.
Confused.com is owned by the Admiral Group plc. Admiral listed on the London Stock Exchange in September 2004. Confused.com is regulated by the FSA.
*Based on the average customer savings made in 2008
###