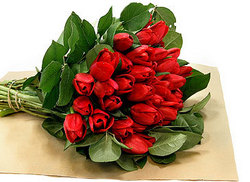 Love your business, know your product, enjoy your employees
Portland, OR (PRWEB) February 13, 2009
While most businesses born in the dot.com heyday of the 1990s are pushing up daisies, Portland's Flowerbud.com is still busy sending them ― as well as a host of other varieties ― fresh to your door. Begun in 1999 by former farmer Mark Hayes, Flowerbud celebrates its 10th year harnessing the power of the Internet to bring customers the freshest flowers this side of the front yard.
Flowerbud's innovative "from the dirt to your doorstep" commitment means flowers are delivered as buds whenever possible, extending their vase life from the typical three or four days to up to two weeks. For 10 years, this no-middle-man approach has enabled the company to respond more quickly to orders, while delivering customers more flower for their money.
"Flowerbud just happens to be a good idea that adds a definitive value proposition to what it sells," said Mark Hayes, Flowerbud.com CEO and founder. "Over the last 10 years that success has been reflected in the continuity of our numerous suppliers, 100 percent of whom still exist and supply us when called upon."
As good ideas go, it is a relatively simple one: deliver the absolute freshest flowers possible. To do this most Flowerbud flowers are cut one day and shipped the next. In most cases, flowers arrive to the customer less than 48 hours after leaving the field. By contrast, flowers bought in a store may have traveled for up to a week, moving from grower to wholesaler to retailer, by the time a customer finally has them at home.
To further ensure freshness, most Flowerbud flowers are boxed in bud form so that recipients can enjoy watching them open. This step also protects the delicate bloom while the flowers are in transit.
When Hayes dreamed up Flowerbud in 1999, dot.com start-ups were popping up like dandelions. Flowerbud has managed to outlast them thanks to a good idea powered by the company's robust Web site, which includes Hayes' popular, long-standing blog, and a standard of exceptional customer service.
With 30 years in the floral industry, Hayes also happened to know where to find the best flowers, recruiting an array of growers, many specializing in a single variety. The company in time also added delicious gift items, including apples, pears, and oranges, as well as cheeses, fresh roasted nuts, and artisan chocolate ― most sourced locally from near Flowerbud's home in Portland, Ore., and delivered fresh.
In the end, the challenges along the way have been worth it. The company has adapted and grown stronger, continuing to bring the freshest, most beautiful flowers directly from the grower to customers across the U.S. What has Hayes learned along the way?
"Love your business, know your product, enjoy your employees," he says. "Also, do everything possible for those pulling for you and jettison the bad apples immediately ― before you can kid yourself that a bad apple tastes good."
For more, visit http://www.flowerbud.com.
###