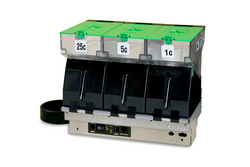 We have been very pleased with the improved performance in our lab, as well as reports from our early- adopter Self-Service seeking customers
Boston, MA (PRWEB) February 12, 2009
Salem, NH -- Telequip®, the world's first choice for automated Coin Dispensing Solutions, announces its new design of the CoinXpress Coin Dispenser, the CX25. The CX25 Coin Dispenser offers outstanding performance with extremely high reliability for years of operation in Self-service and Self-checkout applications that require cash transactions.
"With the growing popularity of Self-checkout devices and
Self-service kiosks, it only made sense for us to design an optimized, higher performance product for these demanding applications," said Alan Burt, general manager, Telequip.
Well-accepted as the standard for Coin Dispensing Solutions by major self-service OEM's worldwide, the CoinXpress family of Coin Dispenser products offers an embedded hopper-based design for low-maintenance efficiency. The CX25 Coin Dispenser accommodates a high volume of coin while providing easy access and streamlined replenishment for Self-checkout applications. This allows for less downtime with fewer coin replenishment operations needed for the Self-checkout device.
The new CX25 Coin Dispenser's hopper design, with its unique 25-degree angle, reduces motor stress and rotor wear and improves debris flushing. Able to dispense coins for approximately 1000 Self-checkout transactions per filling (US 4-bin configuration), the new CX25 Coin Dispenser design implements an innovative jam-sensing technology, which actively senses a jam and takes appropriate measures to clear it without operator intervention.
The CX25 Coin Dispenser can recognize low-coin levels with a higher degree of accuracy, maintain a history of coins dispensed and offers an even depletion dispense mode that provides optimal coin use for long runs or a minimum dispense mode to release the least amount of coins necessary.
"We have been very pleased with the improved performance in our lab, as well as reports from our early- adopter Self-Service seeking customers," said Vic Quattrini, vice-president of engineering at Telequip about the new CX25 Coin Dispenser.
Adaptable to coin sets for over 15 countries, including the U.S. Dollar, Canadian Dollar and the Euro, the CX25 Coin Dispenser is truly global in Self-Service design. Available in 3-bin, 4-bin, or 6-bin configurations, this Coin Dispenser is designed to be a drop-in replacement for current-generation Self-checkout products and comes with a 12-month depot warranty that includes parts and labor.
About Telequip
Telequip®, a division of Crane Payment Solutions, has been manufacturing automated coin dispensing solutions since 1974. As the world's first choice for automated coin dispensing solutions, Telequip offers support for coin sets from over 15 countries, including the Euro. Our work force is comprised of product engineers, sales and marketing, customer service and assembly professionals at our headquarters in Salem, New Hampshire. The Telequip brand is synonymous with quality, reliability and longevity - delivering products that are second to none.
For more information on Telequip's innovative products and solutions, please visit http://www.telequip.com, or call (800) 225-0580.
###