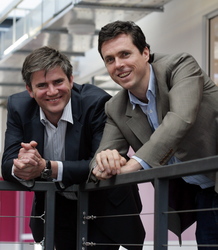 Optim Legal provides top tier legal talent to clean tech companies under better conditions as a part of our contribution to working towards a low carbon economy
Sydney, Australia (PRWEB) February 13, 2009
Optim Legal, Australia's first law firm to offer top-tier lawyers, a satisfaction-based billing system, and savings of up to 40% today announced its end-to-end legal services for Australian clean tech companies. Optim Legal Website.
Christian Hyland, Co-Founder and Commercial Director, said Optim Legal is a new commercial law firm staffed by hand-picked, senior top-tier lawyers with a genuine interest in helping clean tech businesses. "Optim Legal provides top tier legal talent to clean tech companies under better conditions as a part of our contribution to working towards a low carbon economy," said Hyland. Executive Images.
"Optim Legal has slashed the cost of top-tier legal work by up to 40% by running a tech-enabled efficient operation without the trappings of traditional firms. In addition, Optim Legal offers clean tech companies a 10% discount as part of its commitment to sustainable business," said Hyland.
With its established practices in Climate Change, Corporate, Property, Energy Infrastructure, and Environmental Planning, Optim Legal is able to offer a complete service to clean tech firms wanting one legal company alongside them as they grow, from private equity-raising through to infrastructure projects.
The firm supports clean tech businesses with a comprehensive range of legal services that include IP commercialization, private equity, capital-raising, company structuring, joint ventures, licensing deals, supply / service agreements, development approval (land & environment), environmental regulations, property transactions, electricity regulation, commercialisation of carbon trading projects, and infrastructure projects
"All of our systems and structures are designed with one goal in mind - to provide an environment where clients and lawyers foster excellent relationships and thrive," said Co-Founder Nick James, formerly of Freehills and Allens.
This emphasis on values is reflected in a number of areas. For example, Optim Legal keeps its costs as low as possible and passes these savings on to clients. It allows its clients the ability to lower or raise their fees by 20% each month depending on their satisfaction (a program which has so far led to many more 'uplifts' than minuses). It also offers clean tech companies a 10% discount and encourages lawyers to work for client companies whose values they share.
"This is an exciting time for us, we have a highly credentialled team on board and are all very much looking forward to this next phase of controlled and sustained expansion supporting clean tech firms," said James. "This is a critical period in the evolution of the clean tech industry in Australia, everything that can be done to support the sector is to be encouraged. Clean technology firms are not only conducting a business they are helping our society change in response to serious national and global challenges. They deserve the best possible support."
About Optim Legal:
Optim Legal has re-engineered the way a traditional large commercial law firm operates to deliver savings of up to 40% and improve accountability. Optim Legal only hires outstanding top-tier experienced lawyers and works with fast growth, innovative and sustainability minded businesses in the areas of, corporate law, general commercial law, clean technology, carbon management, property, environment & planning, banking and finance, advertising and marketing, and intellectual property.
Quotes:
"Imagine a law firm built on the most innovative management thinking from the non-legal world. Well, it's a reality." -- Australian Financial Review 6/6/08
"With frugality the flavour of the year, the chance to slice legal bills by 40% ought to make general counsels salivate- particularly when the crème de la crème of lawyers are doing the work." -- Business Review Weekly 22/1/09
"Forging new frontiers in law.... Optim Legal's model breaks new ground for the legal profession which is typically technology-shy and tradition bound." -- Australian Financial Review, 26/2/07
"Optim Legal: new kids redefining the block." -- Lawyers Weekly, 18/12/07
"When Optim Legal told me they were different, I thought 'Yes, I've heard that one before'. Having had a fair few dealings with Optim Legal since June '08, I must say, I have not been disappointed. The quality of their work has been excellent and the level of customer service and genuine interest in our business, unprecedented. Their billing model is the fairest I have seen in the legal industry to date. It takes paradigm shifters like Optim Legal to change an industry. Show your support, vote with your feet and try them out. I cannot recommend them highly enough!" -- Elmar Platzer, Chief Operating Officer, MassMedia Studios ('Deloitte Fast 50' Company 2005, 2006)
###