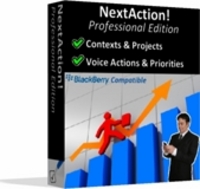 Hong Kong, China (PRWEB) February 13, 2009
NextAction!™ 3.0 Professional Edition helps to implement the "Getting Things Done" methodology with your BlackBerry®. Newly added features in the Professional Edition are priority support as well as voice actions. A voice action allows the user to quickly record a task as audio and saves it directly into the NextAction!™ task management system. Priorities can be added to each action for more sophisticated prioritization and categorization of your life's tasks.
The newly introduced features of NextAction!™ 3.0 Professional Edition complete the already existing broad range of functionalities the Standard Edition is providing already. This includes features like categorization by context and project preferences, one-click context and project switch, one-click mark completed, context filters, someday/maybe list support, hiding completed actions, and more.
Integrating advanced task management systems like NextAction!™ into other systems (enterprise or desktop) is supported as well. NextAction!™ integrates with the BlackBerry's internal task database and it is therefore possible to synchronize all tasks with desktop applications like Microsoft Outlook®, Apple iCal, and more. Enterprise synchronization with systems like Microsoft Exchange®, Lotus Notes®, Novel Groupwise®, Act! Is supported through a BlackBerry Enterprise Server (BES®).
NextAction!™ has been optimized as a standalone product but also integrates well with other products of the productivity application portfolio provided by S4BB Limited. User of TaskReports™ for instance, can get GTD® specific reports for reviewing purposes sent to their email mailbox on a daily basis.
All current BlackBerry® models running BlackBerry® OS 4.2.1 and higher are compatible with NextAction!™ 3.0 Professional Edition. This includes but is not limited to the brand new BlackBerry® Curve™ 8900, BlackBerry® Bold™, BlackBerry® Pearl™ 8220 Flip™ and BlackBerry® Storm™.
For additional information on NextAction!™, please contact S4BB Limited or visit http://www.s4bb.com/software/nextaction/.
About S4BB Limited:
S4BB Limited is a Hong Kong-based company, specializing in the development of mobile applications. Its market-leading BlackBerry® products cover nearly all aspects of what is possible on a mobile device. It provides software for the world-wide mobile market, such as games, productivity applications, administration tools, mobile communication products, as well as desktop applications for preparing data for your mobile device.
Contact:
Peter Bauer, Productivity Evangelist
S4BB Limited
info (at) s4bb (dot) com
http://www.s4bb.com/software/nextaction/
###