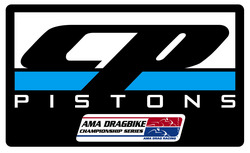 We are excited about our new partnership with the AMA Dragbike series
Irvine, CA (PRWEB) February 13, 2009
CP Pistons is proud to announce that it has signed a sponsorship agreement with the American Motorcyclist Association (AMA) Dragbike Series, and will post over $16,000 in contingency payouts across all categories in the Pro, Semi-Pro and Sportsman classes in 2009. In addition to its support of the racers through contingency postings, CP will be present at each national AMA Dragbike event with a 25-foot display in the manufacturer's midway.
"We are excited about our new partnership with the AMA Dragbike series," stated CP Piston's Cindy Verkooij, "In addition to being the premiere series for competitive drag bike racing, it is an ideal proving ground for our motorcycle racing piston technology." Verkooij added, "Working with sponsored rider Terry Stewart of Shaker Products, CP will be in attendance at all national events in the manufacturer midway to support the series, racers and fans, We invite everyone who attends the AMA Dragbike series to stop by and meet our team, and to see the product advantages CP Pistons has to offer. We are looking forward to seeing everyone at the first race in Georgia (Bikeweek nationals) March 7th and 8th!"
ABOUT THE AMA DRAGBIKE SERIES
AMA Dragbike is the largest all-motorcycle drag racing sanctioning body in the world, with a combined purse and contingency program greater than all other sanctioning bodies worldwide combined. From Larry "Spiderman" McBride's outrageous 5 second Top Fuel bike to the 7 second, 200 mph street legal monsters of Barry Henson and Kent Stotz, the world's quickest and fastest times have all been set at Prostar events. Today, AMA Dragbike draws competitors from around the world to race on the top tracks in the country. All motorcycle brands are welcome and compete on equal terms in the quickest, fastest show on two wheels.
Founded in 1924, the AMA has an unparalleled history of pursuing, protecting and promoting the interests of the world's largest and most dedicated group of motorcycle enthusiasts. The AMA focuses on rights, riding and racing through its government relations work, by sanctioning road and off-road riding activities and overseeing professional and amateur racing events. The AMA's headquarters in Pickerington, Ohio, is also home to the Motorcycle Hall of Fame Museum. American Motorcyclist Association Website
ABOUT CP PISTONS
CP Pistons, founded in 1999, is celebrating its 10th anniversary. CP Pistons was founded with the mission of servicing the needs of enthusiasts and racers who desire to build the highest quality engines. CP Pistons ensures the highest quality by using the latest technology to manufacture its products, including state-of-the-art equipment, proprietary tooling and dedicated cutters. Along with unique fixturing, computer modeling and five-axis machining, CP employs a multi-level inspection process that includes an advanced climate-controlled inspection department to guarantee that each piston is second to none. CP Pistons is a member of PANKL Racing Systems.
CP Pistons
1902 McGaw
Irvine, CA 92614
949-567-9000 Phone
949-567-9010 Fax
###