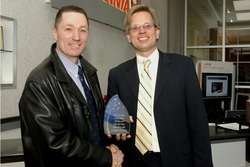 Sometimes we forget about the people in our communities who make sure that important services are available around the clock
Hillsboro, NH (Vocus) February 13, 2009 –-
OSRAM SYLVANIA has named Paul Tucker of Salem, Massachusetts the 2008 SilverStar® Night Shift Hero.
Tucker, whose brother Michael nominated him for the award, is being honored for his work as a police captain and commanding officer of the Salem Police Department's criminal investigation division, as well as for his off-duty heroism.
"Sometimes we forget about the people in our communities who make sure that important services are available around the clock," said Lorrie Piper, Marketing Communications Manager, OSRAM SYLVANIA. "That's why SYLVANIA created the SilverStar® Night Shift Hero award to honor and shine a public spotlight on extraordinary people who work at night."
Tucker won the award for helping a fellow citizen in January 2007. While off-duty and driving home from an evening out with his wife, Tucker saw an unattended car parked on Veteran's Memorial Bridge, which connects Beverly and Salem. When he pulled over to investigate, Tucker discovered a man perched on the bridge 60 feet above the cold waters below. The man threatened to jump when Tucker approached him and identified himself as a police officer. Fortunately, Tucker was able to reach over the railing and grab the man before he took his own life.
"Police officers face danger in their jobs on a daily basis. The actions that Captain Tucker took while out of uniform, and without regard to his own wellbeing, are what make him a SilverStar® Night Shift Hero," Piper said.
A member of the Salem Police Department for 27 years, Tucker typically works 4 p.m. to midnight. Several times throughout the year, he is on call 24 hours for seven days straight responding to serious crimes such as drug deals, robberies and homicide investigations. While Tucker's job is to enforce the law, he sees policing as a way to leave a positive impact on the community.
"What's most rewarding about my job is being able to help people in ways big or small, regardless of whether they are considered a 'good guy' or a 'bad guy'."
OSRAM SYLVANIA created the SilverStar® Night Shift Hero Award as a way to recognize some of the seven million Americans who work overnight. According to research at the University of North Carolina, these workers are four to five times more likely to be in automotive accidents than those on the day shift. While fatigue is a primary factor, increasing visibility through higher performing headlights offers a significant protection. Premium bulbs like SYLVANIA SilverStar® ULTRA headlights are up to 50 percent brighter and increase down road visibility by up to 40 percent when compared to worn standard bulbs.
SYLVANIA will post the stories and photos of Tucker and three finalists on their website. Tucker will also receive a $500 gas card, a gift basket filled with SYLVANIA lighting products and a SilverStar® Night Shift Hero trophy.
About OSRAM SYLVANIA Automotive Lighting
OSRAM SYLVANIA, together with OSRAM GmbH, is the world leader in automotive lighting for original equipment manufacturers (OEMs) and the aftermarket. The company's global automotive lighting division has its principal North American operations in Hillsboro, N.H., with nearly 700 employees. In addition to TS 16949, this facility has also achieved ISO 9001 and 14001 certifications. Automotive Lighting designs, develops, manufactures and markets state-of-the-art automotive light sources, including auxiliary, advanced halogen, LED and high-intensity discharge lighting for interior, exterior and forward lighting applications. More than 400 lamp types are produced for cars, trucks, and electronics in facilities throughout the U.S., Europe, and Asia. Automotive applications for OEMs are marketed under the OSRAM brand while products for the aftermarket are sold under the SYLVANIA brand. For more information, visit http://www.sylvania.com/auto.
More information on headlight safety, maintenance and information on SYLVANIA SilverStar® ULTRA is available in Lauren Fix's Guide to Loving Your Car: Everything You Need to Know to Take Charge of Your Car and Get On with Your Life by Lauren Fix, the Car Coach®, America's award-winning automotive expert. The book is available at major book retailers and online booksellers.
About OSRAM SYLVANIA
OSRAM SYLVANIA is a leader in lighting solutions and specialty products that feature innovative design and energy saving technology. The company sells products for homes, businesses and vehicles primarily under the SYLVANIA brand name, and also under the OSRAM brand. Headquartered in Danvers, Mass., OSRAM SYLVANIA is the North American operation of OSRAM GmbH, a wholly owned subsidiary of Siemens AG. For more information, visit http://www.sylvania.com.
###