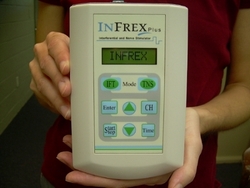 Interferential has been the leading clinical electrotherapy form of pain relief treatment since it's onset in 1951 primarily due to carryover pain relief
Wake Forest, NC (PRWEB) February 16, 2009
The Infrex Plus is now providing chronic pain patients the ability to self treat at home or work on an as needed basis. The surprising development is the amount of "carryover pain relief" most patients are achieving.
Carryover pain relief, often referred to as "residual pain relief", is nothing more than the time period after the interferential treatment in which the patient has no pain. The phenomenon is not new to interferential for chronic pain patients, but to be able to self-treat as needed is opening new options for the chronic pain patient. " Interferential has been the leading clinical electrotherapy form of pain relief treatment since it's onset in 1951 primarily due to carryover pain relief", but only since November 2008 has the option been affordable and available to the chronic pain patient.
Historically interferential was only available to patients in a clinical setting. The patient would schedule an appointment and then come to the clinic or hospital for the 30 minute interferential treatment. The pain relief was immediate and the patient would leave the facility scheduling a return visit in anticipation of the return of the pain. The patient and clinician guessed how long it would be before the pain returned and the severity of the pain reached the point of needing treatment. In other words the "carryover pain period" was guessed at.
Today with the Infrex Plus the patient can treat as often as necessary whenever the pain returns. The carryover pain relief period is constantly extending from treatment to treatment. This is advancing the treatment of many historically chronic conditions such as:
· Chronic Back Pain
· Sciatica
· Herniated Disc
· Bulging Disc
· Spinal Stenosis
· Lumbar Pain
· Osteoarthritis
· Fibromyalgia Syndrome
· Shingles
· Phantom Limb Pain
· Restless Leg Syndrome ( RLS)
· Cervical Spondylosis
· Trigeminal Neuralgia
· Reflex Sympathetic Dystrophy ( RSD)
· Carpal Tunnel Syndrome ( CTS)
The new interferential/tens Infrex Plus is also reducing the dependency and costs of traditional opioid drugs providing the patient better, safer, and less expensive options.
###