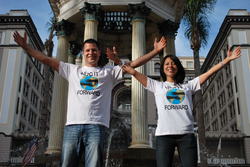 With 10 billion hugs a day as the start, it won't take long to change the world. It will happen much faster than most would expect. The power of a hug is so much more than body contact. It is an exchange of energy that soothes the soul
San Diego, CA (PRWEB) February 12, 2009
A group of almost three dozen entrepreneurs from the United States, Ireland and England launched a new non-profit called 'HUGitforward™' early this morning. The team decided to launch on the 13th of February around the world (which began at 3:01 a.m. PST today -- 12:01 a.m. in New Zealand) as the start of "HUGitforward International Day" to be celebrated every year on February 13.
The mission of HUGitforward™ is to encourage people around the world to give 10 hugs a day. "The idea is that if one person gives out 10 hugs and invites those 10 people to give out 10 hugs, and those people to give out 10 hugs, then it will only take 10 days for 10 billion hugs to be distributed," explains HUGitforward™ founder Eli Call. "With 10 billion hugs a day as the start, it won't take long to change the world. It will happen much faster than most would expect. The power of a hug is so much more than body contact. It is an exchange of energy that soothes the soul," he adds.
While attending a course early in February called Spirit of Greatness, the group created a vision and a plan during a team building exercise. As Valentine's Day approaches, the team has quickly built an infrastructure for the new organization, by creating a logo, web site (http://www.HUGitforward.com), a video (http://www.youtube.com/watch?v=0Mvomuh7qCM) and an original song, which launched at 3:01 a.m. PST this morning -- February 13 around the world.
Tens of thousands of T-shirts featuring the HUGitforward™ logo, which shows two arms hugging the planet, are ready for sale, at $10 each including shipping and handling within the U.S. (shipping charges apply internationally). The majority of the proceeds from T-shirts sales and donations will go toward shipping the symbolic T-shirts to people in Third World countries, and to help spread the message and encourage the public to share in the movement and HUG IT FORWARD. The T-shirts also will be made available to organizations (such as schools and sports teams) as a fundraising opportunity.
Founder Eli Call ("Eli the hug guy") explains, "Every day, we all have the opportunity to meet and connect with anyone around us by showing, in a language that transcends all culture, a sign that we are connected. We are a movement of people dedicated to spreading this kind of opportunity into the lives of those who want to feel the difference. Our logo, designed by Lavender Galvao of Zenergy Designs, conveys the message of courage, joy, peace and connection to anyone who sees it."
Singer/songwriter Tiamo De Vettori wrote and sings HUGitforward's theme song, titled "Be the Change." Tiamo practically grew up on stage, performing and touring the world with his father Franco De Vettori, an international opera singer. Tiamo was named Male Singer/Songwriter of the Year at the Los Angeles Music Awards, and Best Songwriter at the San Diego Music Awards. Other musicians on the recording feature Dennis Caplinger (who played with Eric Clapton on 2008 Grammy-winning CD "Road to Escondido") on guitar, banjo, mandolin and violin, Sharon Whyte (of the Eve Selis band) on keyboard, Joe Giorgino on bass, and a group of children on vocals. The song was produced by Steve Wetherbee and Grammy nominee Steve Vaus, at Golden Track Studio in Escondido, CA.
World renowned psychologist Virginia Satir says, "Hugs make you want to smile. As a wise master once said, 'We need four hugs a day for survival. We need eight hugs a day for maintenance. We need 12 hugs a day for growth.'"
HUGitforward™ is based in Cardiff-by-the-Sea, California, and plans to spread globally as quickly as possible. The catalyst for the organization started with a vision that came to Eli Call, now a 30-year-old successful commercial real estate investor. While living in Sicily for six months, Eli began to visualize a worldwide movement spreading peace, and resulting in the "end of war." That was 14 months ago. He didn't know how he was going to realize his vision, but details became clearer by the day. At the Spirit of Greatness seminar hosted by Frontier Trainings, Eli shared his vision with the group of entrepreneurs from all walks of life, and they voted unanimously to join him in his quest to spread peace. The seminar facilitated the explosion of this cause.
For more information, contact http://www.HugItForward.com.
Media Contact:
Jan Rieger, President
McLane Rieger Communications, Inc.
858.831.0973
http://www.mclanerieger.com
###