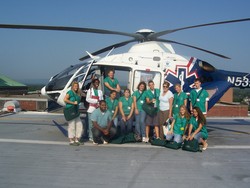 The goal of the new Hudson Mohawk AHEC website is to recruit, retain, and respond to the needs of the healthcare workforce in the region
Glens Falls, NY (PRWEB) February 17, 2009
Hudson Mohawk AHEC has announced the release of their newly redesigned website, http://www.gohealthcareer.org/ The new redesign was focused on creating an updated look, more easily available information for visitors, and ease of access to health care career programs.
Hudson Mohawk Area Health Education Center (AHEC) is a non-profit organization that provides information, assistance and guidance for students and health care professionals exploring careers in the health care field. AHEC provides a comprehensive look at various career opportunities, offering everything from hands-on career exploration programs that provide exposure to what is involved in day-to-day medical facility care, to career development programs for students age 16 and above.
"The goal of the new Hudson Mohawk AHEC website is to recruit, retain, and respond to the needs of the healthcare workforce in the region," says Executive Director Lottie Jameson. "The new website is very easy to use whether you are a student, an incumbent worker or a professional healthcare provider looking to relocate to the region."
One of the features of the new site is access to career videos profiling the AHEC programs. In addition to providing an overview of the organizations mission and goals, they feature interviews with professional employees. A nursing professional, an Occupational Therapist, a Pharmacist, and a Director of Operations are among the individuals profiled in the video who share information and describe how their experiences have shaped their lives and careers.
Students and those exploring the possibility of a new career in the health care industry can complete a self-assessment, find information on many different careers, and look for scholarships grants and tuition assistance, all right from the website. "The redesign allows visitors to focus on upcoming programs right on the home page," says Jameson.
The AHEC serves a broad upstate NY region, including Essex, Hamilton, Saratoga, Albany, Renssellaer, Montgomery, Warren, Fulton, Washington, and Schenectady counties.
For more information, contact Lottie Jameson, Executive Director at (518) 480-2432
###