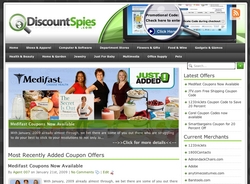 Houston, TX (PRWEB) February 13, 2009
DiscountSpies.com is pleased to announce that they've recently been accepted as an affiliate merchant with Medifast; a leader in weight loss success stories. Through this affiliate relationship, DiscountSpies.com is now able to offer Medifast coupons and promotional offers that will help all visitors to the Medifast.com website save money on Meals, Ad-Ons, Plan Materials, and more.
It's fairly common knowledge that eating well balanced meals and maintaining a healthy weight is important for the overall health and well being of the body as well as the mind. However, in this day and age, making the right food choices has become increasingly more difficult. Messages abound about tempting but nutritionally poor foods as well as "fad diets" that almost always fail.
In answer to these issues, Medifast was born. Medifast is a company that has made it their goal to help people, including those with Diabetes, eat well and lose weight through a very simple food plan called the "5 and 1 Plan". With this weight loss plan, participants eat 5 Medifast Meals and 1 lean and green meal (a lean meat plus salad/veggies) during each day.
Through their weight loss plans for men, women, and those with Diabetes, Medifast also makes it easy for those with active lifestyles to eat healthy and lose weight; even though there really isn't time left in the day to put into meal planning and food preparation. Medifast Meals are easy to prepare, and, more importantly, they're specially formulated with low-fat protein and fiber, and fortified with essential vitamins and nutrients, so Medifast users lose weight without losing out on nutrition.
With this new affiliate relationship between DiscountSpies.com and Medifast, all of these fantastic benefits are made even better. By using the money saving Medifast discount codes that are now regularly published at DiscountSpies.com, Medifast users will be able to get the meals and supplies they need at some of the best prices possible.
###