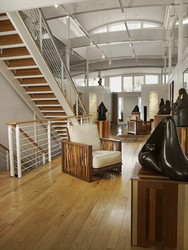 Traverse City, MI (PRWEB) February 14, 2009
Rather than continuing the depletion of our natural resources, Urban-Diversions has made a conscious decision to utilize reclaimed and sustainable materials in our VinModern Collection as demonstrated in the first of many introductions.
The first chair is a transitional design built from yellow pine barn beams, evident in the robust frame. The cypress forming the hand mortised lattice back and side panels originated from a raised green house, once located in Grand Rapids Michigan.
The second chair is a soft contemporary design constructed of sustainable walnut planks and cypress spindles (from the same green house) reminiscent of viewing natural marsh grass from a window pane.
The cushioning for the chairs are made from soy foam and hypo-allergenic down, affording both luxury and sustainability. Urban-Diversions believes there is an inherent value in reclaimed furniture built in the United States, demonstrating the importance of investing in the United States and a sustained commitment in saving our environment.
Further reinforcing the commitment to good enviromental stewardship, Urban-Diversions also offers the "Ultimate Green Choice" Antique Furnishings, where there is no carbon foot print left behind, just warmth and history. Urban-Diversions only sources rare and unusual antiques or unique pieces that have a great story behind them.
The commitment goes beyond manufacturing efforts, Urban-Diversions is located in a turn of the century Railroad Station, saving a historical land mark that is both charming and efficient. The station is largely powered by solar panels, further demonstrating a commitment to the eco-system.
To learn more about this exciting company, please go to http://www.urban-diversions.com, proceed to Forum and enjoy several interviews from industry leaders. Once there, view the many exciting products offered by Urban-Diversions or by calling 231-946-6600 for personal assistance.
###