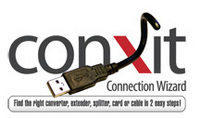 We saw the need for a tool like ConXit based on the tremendous number of inquiries we were receiving from professionals in the IT and A/V industries
Groveport, OH (PRWEB) February 13, 2009
Groveport, OH -- StarTech.com (http://www.startech.com), a leading manufacturer of hard-to-find connectivity and technology parts, today launched the ConXit Connection Wizard, an exclusive new online tool that allows users to find the right connectivity product quickly and easily. This simple yet powerful tool recommends the best products for connecting IT and/or audio-video peripherals, after the user completes two easy steps.
In step one, the user selects the type of connector for the peripheral or device they wish to connect from a drop down list of options. In step two, the user selects the connection type on the host computer or component. The ConXit Wizard will then recommend the best options for making the connection.
What makes ConXit unique is that it suggests a comprehensive range of connectivity options from one convenient interface including converters, extenders, splitters, interface cards and cables. Most other online tools available currently only find cables or a narrow range of options.
Over 90 different connector types are available to users through the ConXit Wizard which searches a database of over 1000 connectivity products, to find the best solutions. Connection types range from the newest cutting-edge technology such as DisplayPort and PoweredUSB to legacy technology such as serial and S-Video.
"We saw the need for a tool like ConXit based on the tremendous number of inquiries we were receiving from professionals in the IT and A/V industries," commented Paul Seed, President of StarTech.com. "There are so many connection types out there, that even seasoned techies were having trouble finding the right connectivity product to complete their solution."
Mr Seed continued, "The ConXit Wizard was designed to make it easy even for non-techies to quickly locate and source the right connectivity solution for the job. Whether someone is looking to connect a new peripheral to their laptop or complete a complex digital signage solution, the ConXit Wizard can help. Also, with companies looking to stretch their IT budgets further, the demand for products to bridge legacy equipment with newer technology is increasing. StarTech.com's ConXit Connection Wizard can help them find the right products to make that bridge."
After the ConXit Connection Wizard makes a product recommendation, the user can view technical specifications, features, benefits and photos of the product. Direct links are provided to resellers and distributors of the product, making it easy to purchase the product online.
The ConXit Connection Wizard can be found on StarTech.com's web site at http://www.startech.com/conxit
For more information contact Andrew Stephen at 1-800-265-1844 ext. 1248.
About StarTech.com:
StarTech.com is an ISO 9001:2000 Registered manufacturer of hard-to-find connectivity and technology parts. Founded in 1985, StarTech.com has locations in the United States, Canada, Europe and Taiwan, servicing a worldwide market. Additional information about StarTech.com may be found online at http://www.startech.com.
###