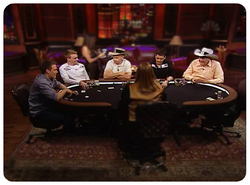 Playing on 'Poker After Dark' was a ton of fun and an amazing opportunity
Chicago, IL (PRWEB) February 16, 2009
Team CardRunners lead instructors Cole South, David Benefield, and Taylor Caby will face off against seasoned veterans Doyle Brunson, Eli Elezra, and Gabe Kaplan beginning February 16th on NBC's "Poker After Dark."
The six-episode series features a $100,000 No Limit hold'em cash game with $200/$400 blinds, rather than the typical format of a $20,000 buyin single table tournament. The action promises to be aggressive, spurred by frequent straddles, double straddles, and a "seven-deuce bounty." Five, one-hour long episodes, will air each weeknight on NBC, followed by a "Director's Cut" on Saturday which offers up close and personal interviews and analysis from the players.
The Team CardRunners instructors were excited to play with Doyle Brunson, considered the grandfather of poker and an inspiration from their earliest poker moments. "It's pretty surreal," said Caby to hostess Leeann Tweeden during the show's broadcast. "I read his book in high school, and now he's beating me out of pots left and right."
"Playing on 'Poker After Dark' was a ton of fun and an amazing opportunity," said Cole South--known by "CTS" in the online poker world. "I've played in a lot of poker games, but hanging out with Doyle, Eli, and Gabe on a live set with cameras buzzing around was just a totally different experience. I think all the CardRunners guys played well, and I can't wait to see how it turns out."
CardRunners has released an exclusive 2-minute clip from the show's broadcast on its CardRunners.net web property, as well as in an e-mail blast to its registered members. The clip features a sizeable pot between Cole South and Doyle Brunson as well as a humorous discussion of age and energy drinks.
Contact: Ezra Galston, Director of Marketing
646-675-5193
About CardRunners
CardRunners is the premier online learning community for poker education. Catering to players ranging from beginner to expert and casual to serious, CardRunners provides a wide variety and depth of exclusive educational resources, all with the single-minded focus of becoming a winning poker player. CardRunners' original, dynamic and interactive content comes from some of the world's best poker minds--self-made poker millionaires in their early-mid twenties.
# # #