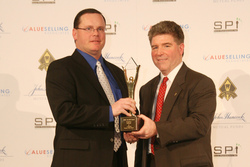 It is proof that our employees are truly living our mission to deliver payroll service with passion.
Glenview, IL (PRWEB) February 13, 2009
Online payroll service SurePayroll announced today that the company is a winner of the coveted Stevie Award for its eCommerce Customer Service Team.
The recipients of the Stevie Awards for Sales & Customer Service were determined through two rounds of judging by nearly 100 distinguished judges and advisors in total, all of whom are leaders in the business community. There were more than 520 entries received this year from companies around the world.
"This is a remarkable validation of our Customer Care team's outstanding capabilities, and the recognition goes a long way in emphasizing the service aspect of our software-as-a-service business," said SurePayroll President Michael Alter. "It is proof that our employees are truly living our mission to deliver payroll service with passion."
As one of the most prestigious business awards, a Stevie Award demonstrates a company's commitment to excellence in various fundamental business disciplines. For SurePayroll, that means a dedication to customer service, as the company runs on the premise that payroll is not merely a software-as-a-service product for running calculations. Employee payroll is also an emotional aspect of life that can cause worry for small business employers.
The awards were presented during a gala banquet at Caesars Palace in Las Vegas on February 9. Sean Harkleroad, Head of SurePayroll's Customer Care Department, accepted the award on SurePayroll's behalf.
"We have a team of employees who value our customers above all else," said Harkleroad. "I'm proud of our Customer Care team for enhancing our company's culture and passion for payroll, and I'm grateful to our dedicated customers for their continuing business support. It was with honor and pride that I accepted this prestigious business award on behalf of SurePayroll."
SurePayroll stands in the ranks of the other 2009 customer service award recipients, among which include John Hancock, Toshiba America Business Solutions Inc. and Brink's Home Security Holdings, Inc.
At the banquet, President of the Stevie Awards, Michael Gallagher, praised the recipients.
"Tonight's honorees demonstrate that even in the midst of unprecedented economic challenges, organizations can still outperform in customer service and sales, the two most important functions in business: creating and keeping customers," said Gallagher.
For additional information about the Stevie Awards for Sales & Customer Service visit http://www.stevieawards.com/sales.
For additional information about other awards won by SurePayroll, visit http://www.surepayroll.com/spsite/company/company-awards.asp
About The Stevie Awards:
Stevie Awards are conferred in four programs: The American Business Awards, The International Business Awards, The Stevie Awards for Women in Business, and The Stevie Awards for Sales & Customer Service. Honoring organizations of all types and sizes and the people behind them, the Stevies recognize outstanding performances in the workplace worldwide.
About SurePayroll:
Voted Editor's Choice for best payroll service by PC Magazine, a Top 100 Product by Accounting Today and winner of the Stevie Award for eCommerce Customer Service Team of the Year, SurePayroll is America's largest full-service online payroll service and honoree of the of the Inc. 500 Fastest Growing Businesses award two years in a row.
SurePayroll is passionate about small businesses and their payroll. The company is dedicated to providing an extremely friendly and simple payroll experience -- at a price small business owners can afford.
In addition to its payroll and ClickFREETM tax file and pay service -- which allows a user to complete the entire payroll process in minutes -- SurePayroll offers a suite of online services designed specifically for small business, including HR and compliance resources, 401(k) retirement solutions, health insurance and workers' compensation products.
SurePayroll also offers a private-label and co-branded payroll service to accountants and banking partners to offer payroll processing to their small business clients.
###