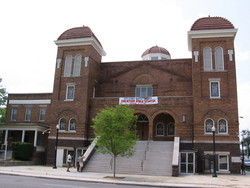 A large part of the value PNC brings to our customers and communities is an unwavering commitment to the communities we call home and a steadfast belief in the power of diversity and inclusion
Pittsburgh, PA (PRWEB) February 13, 2009
The PNC Financial Services Group (NYSE: PNC) celebrates Black History Month with a new web site that honors heroes of the civil rights movement. The public also is invited to hear Rutha Harris, one of the original Freedom Singers, share stories of her experiences in song and verse in three cities.
"A large part of the value PNC brings to our customers and communities is an unwavering commitment to the communities we call home and a steadfast belief in the power of diversity and inclusion," said Ken Spruill, manager, diversity strategies, PNC. "This new website and appearances by Ms. Harris encourage a new generation to explore the history and accomplishments of African-Americans."
As a Freedom Singer, Ms. Harris traveled 50,000 miles to 48 states, won critical acclaim at the 1963 Newport Folk Festival and performed during the historic March on Washington. The public is invited to attend any of three events as part of the fifth annual PNC Black History Month Speaker Series:

Washington, D.C., Feb. 19 at the Washington Post Auditorium; RSVP: artpc(at)washpost.com
Pittsburgh, Feb. 25 at the Byham Theater; RSVP: corporate.events(at)pnc.com
Baltimore, Feb. 26 at Hippodrome Theatre; RSVP: GMDevents(at)pnc.com or 410.237.5549
The performances are free and open to adults and children ages 10 and up. Reservations are required due to limited seating. Ms. Harris will share her powerful voice in a presentation that features singing and telling the stories of the 1960s civil rights movement.
Individuals attending any of the three events are invited to enter a drawing for a chance to win two free tickets to the June 2009 "Returning to the Roots of Civil Rights" bus tour. The nine-day tour visits landmark cities of the American civil rights movement, and participants have the opportunity to meet many key figures in the movement. For the seventh consecutive year, PNC will be the corporate sponsor of the bus tour.
Over the years, the PNC Black History Month Speaker Series and the "Returning to the Roots of Civil Rights" bus tour have enabled hundreds of individuals to share in the rich history of the civil rights movement. The writings, audio journals, interviews, photos and video images drawn from these experiences are now featured in the new PNC web site, http://www.pnc.com/diversity. In addition to the history of the civil rights movement, the site also contains information on PNC's diversity initiatives and programs.
The PNC Financial Services Group, Inc. (http://www.pnc.com) is one of the nation's largest diversified financial services organizations providing retail and business banking; specialized services for corporations and government entities, including corporate banking, real estate finance and asset-based lending; wealth management; asset management and global fund services.
###