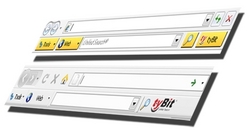 tyBit users can now be confident that the searches they conduct with the company's unique search tool, are secure and malware-free.
Glendale, CA and Fayetteville, NC (PRWEB) February 16, 2009
Panda Security, a world leader in IT security and tyBit Unified Search, the world's fastest growing search engine, today announced a strategic partnership to defend against malware and enhance the security behind tyBit's search engine toolbar. tyBit offers Internet users a quality, secure search tool that embeds in the user's browser. By partnering with Panda Security, tyBit toolbar users will receive an additional layer of protection to help safeguard from the increasing proliferation of harmful programs infecting computers.
PandaLabs, Panda Security's malware analysis and detection laboratory, recently released shocking findings from its 2008 annual report. Last year, PandaLabs detected an average of 35,000 new malware samples each day, 22,000 of which were new infections. By the year's end, the total count of malware threats detected by PandaLabs exceeded 15 million. By partnering with Panda Security, tyBit will now have the ability to protect its 75 million users from the insidious threat of malware and the increasingly sophisticated tactics of cybercriminals.
"Partnering with a rapidly growing company like tyBit provides us with a unique opportunity to provide millions more users with the most effective protection against the very real threat of malware," said Ryan Sherstobitoff, Chief Corporate Evangelist, Panda Security. "tyBit users can now be confident that the searches they conduct with the company's unique search tool, are secure and malware-free."
tyBit accelerates search and maximizes relevancy, which helps users search the Web quickly and thoroughly. By instantly retrieving information from multiple online directories, major engines, and other data sources in the public domain, tyBit efficiently displays all of the results in a single window on the desktop or PDA. tyBit also aids search relevance with grid computing, learning subscribers preferences, searching multiple sources, displaying the most current information and searching local content based on the user location.
"With the exponentially growing number of threats we are facing on the Internet on a daily basis, it is extremely important to us that we provide our users with an even higher, more secure level of protection than before," Kitti Jo Finch, General Manager of tyBit. "We chose to partner with Panda Security because of its breadth and global reach of products for everyone from families in their homes to large corporate enterprises. Because Panda's integrated suite of anti-virus products protects users from all kinds of threats, we can be assured that our users receive the maximum protection when they are using our search tool."
About tyBit Unified Search:
tyBit is the next generation of search engines. With a customizable toolbar that accelerates search, tyBit provides users relevant results based on preferences, location, source and timeliness of the pages. As a client-side application and its partnership with Panda, tyBit's toolbar protects information from being sent over the Internet and provides you with an additional layer of security.
tyBit offers advertisers Pay Per Click campaigns that can include audio and video advertising. tyBit is a member of the Interactive Advertising Bureau, an industry trade association dedicated to maintaining the highest standards in online advertising.
For more information on tyBit partner programs and advertising, visit our Website at: http://www.tyBit.com.
About Panda Security:
Panda Security is one of the world's leading IT security providers, with millions of clients around the globe and products available in over twenty languages. Our mission is to keep our customers' information and IT assets safe from security threats, giving them the most effective protection with the minimum resource consumption.
Every day, thousands of new malicious codes are created. To combat this threat, Panda Security has developed an innovative and unique security model which can automatically analyze and classify thousands of new malware samples. This model is collective intelligence and ensures that Panda Security solutions can protect against far more threats than the products of any other company. The exceptional detection capacity of collective intelligence can be put to the test at the Infected or Not website (http://www.infectedornot.com)
For more information and evaluation versions of all Panda Security solutions, visit our website at: http://www.pandasecurity.com/
Media Contacts:
Shannon Walsh
Bateman Group for Panda Security
+1 (415) 503-1818
panda (at) bateman-group.com
Kitti Jo Finch
tyBit Unified Search
+1 (877) 404-7250
info (at) tyBit.com
# # #