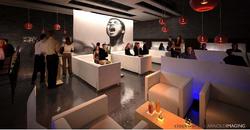 Des Moines, IA (PRWEB) February 16, 2009
Kansas City based Leap Hospitality in conjunction with Clockwork Architecture + Design has been chosen to develop a new contemporary interactive sports dining and lounge experience, named Archive, in Des Moines, IA. Leap Hospitality is assisting with Archive's development, brand, business planning, and process elements while Clockwork will deliver interior architecture and design direction.
Archive will not be a traditional sports bar or restaurant. Finishes will be luxurious yet comfortable with one of a kind interchangeable digitally displayed tributes to sports most iconic personalities. Archive will be a multi story concept and feature an exclusive roof top deck for entertaining.
The 1st floor lounge area will have comfortable seating with interactive computer tables for patron enjoyment. Dining at Archive will be so much more than just a delicious meal; it will be a memorable experience - from carefully selected lighting and music to first class service. Archive will feature a wood-burning grill and an exhibition kitchen where signature steaks, chops, chicken and the freshest seafood available will be creatively prepared. The 2nd level at Archive will incorporate private lounge seating with flat screens and interactive games (WII, Playstation, etc.). The roof-top deck will offer a one of a kind experience for dining, dancing and social gatherings'
The luxuriously appointed contemporary design and welcoming atmosphere will be perfect for any occasion from an intimate dinner, business lunch, getting the boys together for the big game, or the perfect girls' night out. Archive will be adventurous and uncompromising, with a relentless pursuit of guest satisfaction.
The concept developer is currently discussing investment opportunities and would welcome additional interests. You can contact Leap Hospitality for more information and a business plan prospectus.
About Leap Hospitality
Leap Hospitality is a nationally recognized company that specializes in concept development, FF&E/OS&E procurement, kitchen design, and operational project management/execution. Leap was formed by the owners of the BSHL Group who have been in the restaurant/entertainment industry for over 25 years. Leap takes a business analytical approach to ensure success before and after opening. Leap typically acts as an owner's agent and oversees the total concept development. Leap also has developed a niche to effectively deliver FF&E/OS&E procurement services for architects, owners, construction managers, and interior designers on time and within budget. http://www.leaphospitality.com
About Clockwork
Clockwork Architecture + Design is an award winning design office that provides consulting services in the areas of architecture, interior design, and construction management. Clockwork has a proprietary collaborative approach, based on open communication, that assures that each project is completed with the skill and care that has given the company its excellent reputation. Clockwork has completed projects ranging from nation-wide corporate programs to local organic independents. It is this diverse experience that yields unexpected approaches and innovative solutions that support our client's business goals. http://www.clockwork-ad.com
###