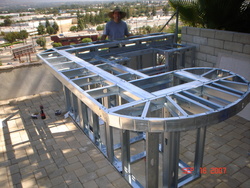 Thank goodness for BBQ Coach
Peoria, AZ (PRWEB) February 23, 2009
Recession Increases number of homeowners building their own outdoor Kitchens. Online company, Bbq Coach.com has created a new product ,mail order steel frame kits which help homeowners construct their own outdoor kitchens. These diy kits save homeowners thousands of dollars off contractor prices. The kits are pre-cut and easy to assemble like Ikea furniture. In addition, the company has produced America's #1 Best Selliing DVD Video, "BBQ Construction 101." The 2 hr video helps homeowners step by step design and construct their own Outdoor Kitchens.
With a global recession and difficulty obtaining equity loans more homeowners than ever are now designing and building their own outdoor kitchens. This DIY project can save homeowners thousands of dollars off retail and contractor prices. It allows many to go ahead with a large home improvement project during poor economic times.
The average homeowner has the basic skills and tools, but most lack the confidence and knowledge to construct their own steel frame. Many also are not sure how to apply the stucco finish. Many families decide to purchase a mail order frame kit and instructional Dvd Video from http://www.BbqCoach.com
The advantage to the frame kits is that all of the pieces are pre-cut and screw together like Ikea furniture. They are designed by a professional builder so you know you are putting together a properly constructed frame. In addition to the kits, BbqCoach offers over 14 DVD videos helping their clients every step of the way to build the outdoor kitchen of their dreams. All the support videos are available video on demand via the company's website.
"Thank goodness for BBQ Coach," says Jacqui Webb of Santa Barbra, CA. "We used the mail order frames kits and were very satisfied how easily it screwed together! The 14 step by step instructional videos were a great help in navigating our way through this project.
If it was not for the Bbq Coach system we would have never taken on this project."
For most homeowners working on this project over the weekends, it takes approximately 4 months to complete from start to finish on average. The most popular outdoor kitchen design is the L Island says, William Gardner, founder of BBQ Coach.com. L Islands fit well in most peoples' landscape and offer plenty of space for your grill and accessories. The most popular combination of appliances is: a 4 burner grill, double doors below the grill, a double drawer, a fridge and a sink with an access door for plumbing. For outdoor kitchens with an LP propane fueled grill, a propane drawer is a must have accessory. This makes exchanging tanks easy without hurting your back.
The average size L island includes a 4 - 6 ft long grill module and a 6 to 8 ft long serving island. Most families add a split bar counter to the serving island. Allow 2 feet per person when designing your bar counter.
More elaborate outdoor kitchens on the high end opt for a rounded island design. The rounded islands take up less space on the patio and are very popular around swimming pools and small yards. No matter what design homeowners choose, an outdoor kitchen is an excellent investment that will bring many wonderful memories shared with family and friends.
For more information about Bbq Coach Mail Order Frame Kits and Videos visit their website at http://www.BbqCoach.com
###