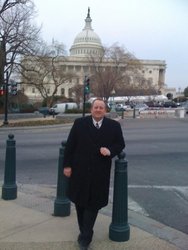 They were deceived by predatory lending practices and have already suffered. Shame on these companies for pushing mortgages on people they know couldn't afford them.
Dallas, TX (PRWEB) February 14, 2009
Joining fellow National Association of Consumer Bankruptcy Attorneys (NACBA) members, Attorney Reed Allmand traveled to Capitol Hill to lobby for legislation that would ease the current mortgage foreclosure crisis. His gameplan? To administer a little arm-twisting Texas-style: speak softly and carry a big stick.
The meeting between Allmand and top lawmakers took place yesterday and was impactful. Allmand says, "It's important to let our legislatures know how significant and costly and painful foreclosure is, not just collectively for 'Americans,' but in terms of each individual person who has to suffer through it. It's devastating."
Indeed it is. According to the latest statistics, approximately 46,000 homes fall into foreclosure every week (6,600 per day)… and Credit Suisse now estimates that an astounding 8.1 million mortgages -- or 16% -- will be in foreclosure by 2012. Experts agree, the longer this foreclosure trend lasts, the more destructive. Currently, financial institutions that have been subsidized by U.S. taxpayers are suffering losses averaging 50% in each foreclosure.
During his Washington tour, Allmand worked to advance the agenda of passing the "Helping Families Save Their Homes in Bankruptcy Act of 2009" and other companion bills. Allmand, a Texas Board Certified Consumer Bankruptcy attorney, believes owning a home is a dream that should be protected and preserved. "What is more American than being able to enjoy your home and raise your children without fear or threat of expulsion?" he asks.
The law would allow bankruptcy judges to modify mortgages on a homeowner's principal place of residence, as is currently allowed on vacation homes, boats, commercial real estate, vehicles and farms. These judicial modifications could include reducing the interest rate and lengthening the repayment time.
And what about the issue of personal responsibility? "Most of these homeowners were victims," counters Allmand. "They were deceived by predatory lending practices and have already suffered. Shame on these companies for pushing mortgages on people they know couldn't afford them."
What Allmand and other bankruptcy lawyers are pushing for -- judicial mortgage modification -- seems reasonable compared to the billions of dollars in seemingly misappropriated bailout money. A spirited Allmand adds, "We're not trying to get the government to foot the bill for some lavish spa trips or undeserved executive bonuses. We just want Harry and Harriet Homeowner to be able to enjoy the peace and security of their home. Moreover, passing this legislation to tackle skyrocketing foreclosures will cost taxpayers zero dollars. It will help alleviate this foreclosure epidemic without burdening the taxpayer."
Allmand has taken the bull by the horns and is encouraging his clients to do their part. He is asking them to sign a petition asking Congress to act without delay. Allmand believes there's no time to waste. "We can continue down the path of fixing the economy by slapping band-aid after band-aid and go nowhere… or we turn things around by helping homeowners continue to be just that: homeowners."
W. Reed Allmand is a Board Certified Consumer Bankruptcy Attorney and partner in the law firm Allmand & Lee. He has been practicing for 7 years and has handled more than 3,000 bankruptcy filings. He is also author of the book, "The Truth about Bankruptcy." For the past several months, Allmand & Lee has filed over 200 bankruptcies per month. Allmand & Lee has offices in Dallas and Hurst. To speak with Mr. Allmand or to schedule an interview, please call (214) 265-0123.
# # #