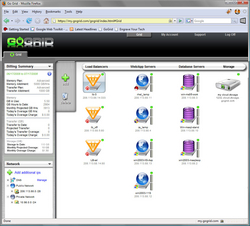 San Francisco, CA (Vocus) February 17, 2009
GoGrid, the Cloud Computing division of ServePath, LLC today announced the immediate availability of larger RAM, CPU and persistent storage Cloud Server instances. The new 4 and 8 GB RAM Cloud Servers further broaden GoGrid's line of Web and Database Cloud servers, enabling complete infrastructure in the Cloud.
To bring higher performance server lines into the GoGrid cloudcenter, all 64-bit GoGrid images are now available in 4 and 8 GB RAM configurations. The 4 GB RAM server images can be deployed via the GoGrid web portal and API. The 8 GB RAM server images currently may only be deployed via the GoGrid API.
The 4 and 8 GB RAM images, available for Red Hat Enterprise Linux 5.1, CentOS 5.1, and Windows Server 2003 and Windows Server 2008 64-bit operating systems bring a new level of performance to the GoGrid line. 4 GB Cloud Servers have 3 CPU Cores and 8 GB have 6 CPU Cores, ensuring dedicated CPU allocations and high performance.
All GoGrid Cloud Servers come with persistent storage. The new larger RAM allocations announced today, are delivered with increased persistent storage: 4 GB Cloud Servers have 240 GB of hard drive space and 8 GB have 480 GB of storage allocated at boot time. Additional storage can be added using GoGrid's dynamically scalable Cloud Storage offering which includes a 10 GB free allotment to start with. Each 1 GB thereafter costs $0.15/GB/month.
Further information on the new 4 and 8 GB RAM GoGrid Cloud Servers can be found at:
http://www.gogrid.com/how-it-works/technical-specifications.php
Server Release Information on these new images can be found at:
http://wiki.gogrid.com/wiki/index.php/Release_Log
Windows users are requested to read our Release and Errata pages as there are some known issues specific to 8 GB Windows Servers which may require a workaround and that they should be aware of before using 8 GB GoGrid Servers with Windows. Errata page: http://wiki.gogrid.com/wiki/index.php/Errata
About GoGrid (http://www.gogrid.com)
GoGrid is the leading Cloud Computing, hosted, Internet service that delivers true "Control in the Cloud™" in the form of cloudcenters. GoGrid enables system administrators, developers, IT professionals and SaaS (Software as a Service) vendors to create, deploy, and control load balanced cloud servers and complex hosted virtual server networks with full root access and administrative server control. Bringing up servers and server networks takes minutes via a unique web control panel or GoGrid's award winning API. GoGrid delivers portal controlled servers for Windows Server 2003, Windows Server 2008, SQL Server, ASP.NET, multiple Linux operating systems (Red Hat Enterprise and CentOS) and supports application environments like Ruby on Rails. Free f5 hardware load balancing and other features are included to give users the control of a familiar datacenter environment with the flexibility and immediate scalability of the cloud, essentially a "cloudcenter." GoGrid won the coveted 2008 LinuxWorld Expo's Best of Show in Product Excellence award.
About ServePath (http://www.servepath.com)
ServePath, a Microsoft Gold Certified Partner, is the leading managed and dedicated hosted server provider, delivering custom solutions and managed services to businesses that need powerful Internet hosting platforms for their production environments. Thousands of companies worldwide look to ServePath for its reliability, customization, and speed. ServePath has a Keynote-rated A+ network and guarantees uptime with a 10,000% guaranteed? Service Level Agreement. The employee-owned company has been in business for eight years and operates its own San Francisco data center and is SAS70 Type II certified.
###