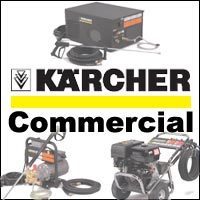 Bolingbrook, IL (PRWEB) February 16, 2009
PressureWashersDirect.com is expanding its online product offering with the inclusion of Karcher Commercial pressure washers.
With the addition of the Karcher Commercial product line, the commercial grade power washer category now has a wider offering.
"These new Karcher Commercial pressure washers are a perfect match for contractors that demand the next level," said Jon Hoch, founder and CEO of Power Equipment Direct, the parent company of PressureWashersDirect.com.
In addition to carrying Karcher Commercial pressure washers, PressureWashersDirect.com also carries a complete line of Cam Spray, Pressure Pro, Mi-T-M, Kranzle and Simpson power washers and accessories.
Power Equipment Direct operates nine niche online superstores. In addition to PressureWashersDirect.com, the Bolingbrook, IL-based company operates AirCompressorsDirect.com, ElectricGeneratorsDirect.com, SnowBlowersDirect.com, MowersDirect.com, WaterPumpsDirect.com, SumpPumpsDirect.com, ChainSawsDirect.com and LogSplittersDirect.com.
# # #