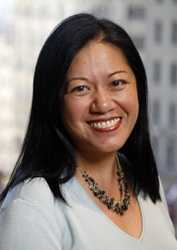 We need social algorithms that can tease out what is important in our lives
San Francisco, CA (PRWEB) February 16, 2009
Charlene Li, social media analyst and co-author of Groundswell: Winning in a World Transformed by Social Technologies, says all our offline and online identities will be melded together. Li envisions a future in which a single device will connect everyone. For this to happen we need to resolve the convoluted mix that currently reigns among all the different platforms so that email, text, Twitter, the Internet, and phone can all be connected together and be under our control.
A video interview with Li about social media is featured on IdeasProject, a unique website developed by Nokia. IdeasProject is an online "information space" that provides a new way to interact with thought leaders and their big ideas about the future of connected communications. For more on Li's big idea, visit: http://www.ideasproject.com/index.webui
"We need social algorithms that can tease out what is important in our lives," said Li. "This comes from getting information via the way we prefer to connect with others. I think of this algorithm as tapping all the implicit data that we generate in our lives, like where we walk, what we order for lunch, what we twitter about; and with this information we tease out an algorithm and paint a picture of who is important, what is important, and when is it important. Then the algorithm can make a recommendation to you."
"The story of the Internet is the story of people and things connecting," said Valerie Buckingham, director of technology marketing, Nokia. "In the last few years, we've lived through the history of these connections becoming truly social - expanding the definition of what it means to communicate: with each other (social networking); and with ideas, great and small (blogs and texting and tweets). That's why we're thrilled and honored that Charlene has shared her thoughts about social media with us."
For the next three months, visitors to ideasproject.com have the opportunity to submit their own Big Idea. Editors will be regularly highlighting their favorite ideas, and sending a Nokia N95 to the Big Thinker who was selected. We'll also be featuring our favorite visitor-contributed Big Ideas along with the ideas of other ideasproject.com contributors.
About Charlene Li
Charlene Li is an independent thought leader on emerging technologies, with a specific focus on social technologies, interactive media, and marketing. She has a blog, "The Altimeter" that discusses these topics at blog.altimetergroup.com. She is also the co-author of the business bestseller, "Groundswell: Winning In A World Transformed By Social Technologies," published by Harvard Business Press in May 2008.
Charlene is one of the most frequently-quoted industry analysts and has appeared on 60 Minutes, The McNeil NewsHour, ABC News, CNN, and CNBC. She is also frequently quoted by The Wall Street Journal, The New York Times, USAToday, Reuters, and The Associated Press. She is a much-sought after public speaker and has presented frequently at top technology conferences such as Web 2.0 Expo, SXSW, and adTech. She is a graduate of Harvard Business School and received a magna cum laude degree from Harvard College.
About IdeasProject
IdeasProject, a project of Nokia hosted at http://www.ideasproject.com, brings together the most visionary and influential "big thinkers" to contemplate the big ideas that matter most to the future of communications. It is a new kind of conversation platform aimed at uncovering the connections between these thought leaders and their disruptive ideas. Explore the IdeasProject website, subscribe to its RSS feed, join its Twitter feed (IdeasProject), and come back often to learn about great new big ideas as they break.
About Nokia
Nokia is the world leader in mobility, driving the transformation and growth of the converging Internet and communications industries. We make a wide range of mobile devices with services and software that enable people to experience music, navigation, video, television, imaging, games, business mobility and more. Developing and growing our offering of consumer Internet services, as well as our enterprise solutions and software, is a key area of focus. We also provide equipment, solutions and services for communications networks through Nokia Siemens Networks.
###