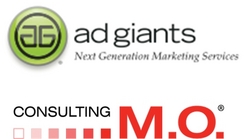 After our Consulting M.O. licensees build their clients' marketing plans, they focus on marketing execution. Our tools help them plan the execution details, but until now we've only recommended solutions
Scottsdale, AZ (PRWEB) February 17, 2009
Moderandi Inc., creator of revenue generation software and tools for marketing consultants and business leaders, today announced that it has entered into a strategic partnership with Ad Giants, LLC, a Dallas, Texas based online brand-management and marketing-services provider.
The partnership lays the foundation to bring together Moderandi's Consulting M.O. platform of web-based marketing planning tools with Ad Giants' marketing execution tools including The ONE System™ for marketing brand management and PitchRocket™, a web-based lead generation and sales-messaging engine.
"After our Consulting M.O. licensees build their clients' marketing plans, they focus on marketing execution. Our tools help them plan the execution details, but until now we've only recommended solutions," said Jim Sagar, president and CEO of Moderandi Inc. "With our partnership with Ad Giants, we can now deliver web-based execution tools that our consultants can use to launch and manage client campaigns with a single click."
The partnership provides Consulting M.O. licensees with special access to Ad Giants' PitchRocket application. From PitchRocket, consultants can design custom, personalized direct mail and email campaigns, using variable printing and personalized website pages to deliver custom, sticky messages that are easy to track. Since PitchRocket provides list management, creative templates, web-sitelets and fulfillment services, users can design and launch a complete campaign from their browser, eliminating the need to hire and manage subcontractors.
The partnership also provides Ad Giants with marketing thought-leadership content from MarketingMO.com and some of Moderandi's consultant partners. "The greatest potential, however, is with our plans to integrate our upcoming applications," mentioned Sagar. "Both greatly expand marketing planning and execution capabilities, and together we aim to arm marketing consultants and small to midsize businesses with the same quality resources and tools of the Fortune 1000, at a price they can afford."
"The overarching objective of teaming up with Moderandi came down the classic case of creating a whole that is greater than the sum of its parts," said David Farmer, Ad Giants founder and CEO. "Our systems do a phenomenal job of delivering the execution and fulfillment tools our clients need to coordinate, distribute and fulfill their marketing programs; but now, through our alliance with CMO, we are able to offer our clients a complete portfolio of marketing planning and execution tools."
About Moderandi Inc.:
Moderandi Inc. creates revenue generation software and tools for marketing consultants and leaders of small to medium-sized businesses. The Consulting M.O. allows consultants and service firms to private-label the strategic marketing process, web-based software and 1,400 pages of content and tools to grow their practice. Marketers can access the Strategic Marketing Process e-Book and "how-to" content at its Marketing M.O. website.
Moderandi is privately-held and located in Scottsdale, Arizona.
About Ad Giants, LLC:
Ad Giants, LLC is a next-generation marketing services company based in Dallas, Texas. Its flagship product, the Ad Giants ONE System™, is an intuitive, online marketing automation system that enables companies to protect and control their most valuable asset, their brand. Ad Giants' new product, PitchRocket, helps customers generate and nurture more leads and provides specific analytics for campaigns. Ad Giants products allow users to quickly and easily customize, order and track corporate-approved marketing materials and campaigns for local use. It streamlines workflow, ensures field-level compliance to brand standards, reduces overhead, eliminates production waste, tracks results and boosts marketing ROI.
###