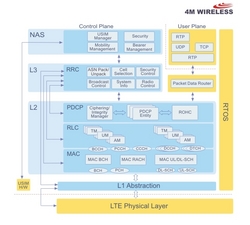 The deployment of our terminal LTE stack software to an optimized embedded platform and this complex demonstration marks an important milestone for our product development
London, United Kingdom (PRWEB) February 17, 2009
4M Wireless Ltd, the leader in LTE protocol stack software, is the first independent protocol stack vendor in the world to have a complete LTE terminal protocol stack compliant to the latest 3GPP specifications running on an embedded hardware platform. The company has demonstrated the system using HD video movie streaming in real time via an LTE eNodeB solution.
4M Wireless has been developing its PS100 LTE protocol stack for user equipment terminal since the start of the standardization process for the new wireless technology. The PS100 LTE protocol stack is compliant to the latest 3GPP Release 8 LTE specifications and is undergoing interoperability tests.
The company proved the readiness of its product by conducting a series of demonstrations. These included the execution of a High Definition video streaming in real time via an LTE eNodeB simulator over an LTE data channel to the PS100 LTE UE protocol stack. The LTE stack ran on an ARM powered embedded platform. The demo included an LTE call setup with complete Layer 2, Layer 3 and NAS signaling. A GUI was used to display and monitor detailed logging of message exchanges between the UE and eNodeB while displaying full inter-stack messaging.
"The deployment of our terminal LTE stack software to an optimized embedded platform and this complex demonstration marks an important milestone for our product development," stated Atif Malik, CEO of 4M Wireless. "In addition to reinforcing our leadership in the LTE ecosystem, these achievements reveal our focus to provide best in class solutions to the market."
The 4M Wireless PS100 LTE protocol stack includes an optimized Layer 2, Layer 3 and NAS software which can cater to different hardware and operating systems. The stack has already been ported to various embedded real-time operating systems. The PS100 is designed to allow chipset vendors to partition and optimize the stack to suit their distinct architecture while enabling them to take advantage of the low power and MIPS consumption of the LTE protocol stack. The PS100 is available for companies looking to accelerate their entry into the market for 4G multi-mode cellular consumer devices.
About 4M Wireless, Ltd.:
4M Wireless Ltd is a supplier of advanced software solutions for mobile communications. 4M Wireless leads the wireless sector in LTE protocol stack software for mobile devices and LTE protocol test solutions for base stations. The company's advanced award winning software is currently being used by a variety of leading customers and partners. More information is available at http://www.4mwireless.com.
###