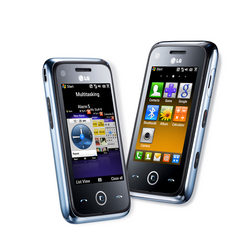 This phone is a springboard for us. We will launch a number of smartphones this year; most of them will follow this same winning formula.
Barcelona, Spain (PRWEB) February 16, 2009
LG Electronics (LG), a worldwide technology and design leader in mobile communications, today announced LG-GM730, its newest handset in LG's smartphone line-up, which makes advanced smartphone features easy to use. This, the first smartphone to use new version of Windows Mobile OS integrated with LG's advanced 3D S-Class User Interface, will be on display at the Mobile World Congress 2009 in Barcelona from February 16-19.
LG Electronics steps forward to the smartphone market making statement that users don't have to outsmart to their smartphone.
The LG-GM730 is the newest phone among LG's easy-to-use smartphones line-up to come. The company has recently signed a special contract with Microsoft, allowing them to be the first manufacturer of a phone with the new version of Windows Mobile. On top of Windows Mobile, the LG-GM730 will provide LG's dynamic, direct and intuitive S-Class User Interface.
"The combination of Windows Mobile and our new 3D S-Class User Interface will make the LG-GM730 the most functional and easiest to use smartphone ever created," said Dr. Skott Ahn, President and CEO of LG Mobile Communications Company. "This phone is a springboard for us. We will launch a number of smartphones this year; most of them will follow this same winning formula."
Built-around a 3D cube layout, S-Class User Interface provides four customizable home screens. The simple flick of a finger instantly turns the cube from one side to the next. S-Class User Interface eliminates nested menus wherever possible, providing more direct access to features and applications. Even setup for e-mail is simplified, requiring just one click. Internet Explorer 6.0 enhances the web experience.
The LG-GM730 also incorporates LG's signature style, with a slim, seamless profile and smooth, stylish rounded edges. At just 11.9 mm it is the perfect on-the-go. Despite its small size, it still manages to pack in all the essential productivity software, with room to spare.
More technical specifications will be announced soon and the LG-GM730 will be available for purchase in the first half of 2009.
To see LG's innovative products and technologies in person, visit LG's booth at the 2009 Mobile World Congress in Hall 8 of Fira de Barcelona. Please visit mwc.lge.com for more information.
About LG Electronics, Inc.
LG Electronics, Inc. (KSE: 066570.KS) is a global leader and technology innovator in consumer electronics, home appliances and mobile communications, employing more than 82,000 people working in 114 operations including 82 subsidiaries around the world. With 2008 global sales of USD 44.7 billion, LG is comprised of five business units - Home Entertainment, Home Appliance, Air Conditioning, Business Solutions and Mobile Communications. LG is the world's leading producer of mobile handsets, flat panel TVs, air conditioners, front-loading washing machines, optical storage products, DVD players and home theater systems.
LG Electronics Mobile Communications Company (LG) is a leading global mobile communication and information company. LG creates handsets that provide an optimized mobile experience to customers around the world with its cutting-edge technology and innovative handset design capabilities. Increasingly, LG is pursuing convergence technology and mobile computing products. LG will continue to take leadership in the mobile communication environment with stylish designs and smart technology.
For more information, please visit lge.com.
###