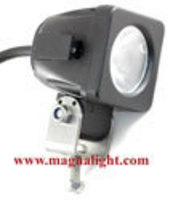 For greater range and true searchlight capabilities, we now offer High Intensity Discharge (HID) arc lamp technology in the Golight remote control lights
Dallas, TC (PRWEB) February 17, 2009
Combining low amp draw, watertight design, bright white light output and attractive and functional form factors, the Magnalight line of LED emitter lights and HID remote control searchlights create new options for boats of all sizes, when it comes to boat spotlights.
"LED lights are known for their low amp draw and durability, but now we have combined these benefits with new patent pending technology that gives them the powerful light output that boaters require," said Rob Bresnahan, President of Magnalight.com. "Our LED10W-6R is a powerful 60 watt LED light fixture that operates on 9-32 volts, is IP68 rated and generates 4800 lumens, which creates a beam 1200 feet long and 75 feet wide. To date, there are not many affordable, compact, high powered LED lights that can deliver this kind of power. Our LEDLB-4 is an ideal spreader light, covering an area 80 feet wide and 80 feet long with 12 watts of LEDs, drawing only 1 amp on 12 volts. We have underwater rated LED lights, including the LED-UL-4, that can be mounted to the outside of the boat with 3 screws, eliminating the need for halogen type, through hull mounted lights. For even wider flood lighting patterns, we offer LED light emitter low profile lights, like the LEDLB-40 and LEDLB-80, which span to 5 foot in length, but are only 2.75 inches tall and 2.75 inches deep. These are ideal for applications where space is tight and lighting need not interfere with other mounted equipment, like radar domes. We offer all of our LED lights in white and black to more closely align with boaters needs for aesthetic requirements," concluded Rob.
"For greater range and true searchlight capabilities, we now offer High Intensity Discharge (HID) arc lamp technology in the Golight remote control lights," Rob continued. Typically, the Golight spotlights operate with a 65 watt halogen bulb, which produces a beam that is effective to 850 feet and has distinct yellow color. We upgrade the Golight Stryker spotlights with a 35 watt HID ballast and bulb. We also integrate wireless radio technology used at NASCAR races to improve the range of the wireless remote controllers to distances of 300 feet. Our GL-3067H (white) and GL-3049H (black) and GL-3066H (chrome) are wireless high intensity discharge golight searchlights suitable for fresh water and saltwater and offer beam lengths exceeding 3000 feet. The GL-3020H, GL-3021H and GL-3026H offer the same power with wired controllers. The beam is white, bright and true color, enabling boaters to navigate tricky waterways more effectively. There are other HID powered searchlights out there, but none of them offer this much power in a compact, lightweight, durable form factor at this low price point. We offer the large brass searchlights with HID power, like our HID-35-RC models as well, but the HID Golight spotlights offer similar power at a lower price point, which enables boaters to see farther for a lower cost."
Larson Electronics makes and sells industrial grade lighting solutions for military, petrochemical, utility and marine applications. You can learn more about Larson Electronics' boat lights at http://www.magnalight.com or 1-800-369-6671.
###