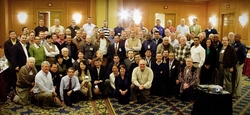 These progressive thinkers gathered together as a means to further the productivity of agriculture. This is Stoller's focus and our corporate mission
Houston, TX (PRWEB) February 17, 2009
The 16th annual U.S. Ag Associates Conference was held January 19-21 in Houston, Texas. More than 100 people from 20 countries attended the three-day conference to learn about the latest Stoller research.
Conference highlights included presentations on product developments and strategies to increase yields on a variety of crops. University professors, researchers, crop consultants, growers and Stoller Group representatives shared research and observations from 2008 field trials conducted around the world.
"These progressive thinkers gathered together as a means to further the productivity of agriculture. This is Stoller's focus and our corporate mission," said Jerry Stoller, CEO of StollerUSA. "The presentations offer new insights and we are enthused about participants utilizing this information and the Stoller technology."
As the conference concluded, participants left with progressive thoughts to apply on their own operations and with research results and application methods to share with others. Attendees learned about the influence of Stoller products on crops ranging from beans, to coffee, to peanuts through presentations from more than 50 speakers. Featured speakers and topics included:

Blueberries, Increased fruit size by Dr. Scott DeSmith, The University of Georgia
Corn, Trials under diverse weather conditions by Mike Netz, Widmer & Associates
Tomatoes & Cucumbers, Field trials by Dr. Mike Orzolek, The Penn State University
Wheat, Increased tiller numbers by Dr. Ron Heiniger, North Carolina State University
Citrus, Grower's perspective of greening by Mike Stewart and Albert Liptay, StollerUSA
Onions, with nematodes by Domenic Cavallaro, Stoller Australia
Soybeans & Cotton, Stoller products by Jerry Stoller, CEO StollerUSA
Apples, New England trials by Tate McPherson, Maine
Nuts, Programs on stone fruit and nut crops, by Lance Beem, California
For more information on Stoller products discussed at the conference, visit StollerUSA.com. Blogging discussions from the U.S. Ag Associates Conference can also be viewed at http://www.cybercoffeeshop.org.
Planning for the 17th US Ag Associates Conference in January 2010 is already underway. Watch StollerUSA.com for information as it becomes available.
StollerUSA is dedicated to helping producers enhance their crops by maximizing genetic expression. The result is in enhanced marketable yield; resistance to insects, nematodes, and disease, while maximizing the return on investment. Stoller products are proven to ensure optimum plant growth by maintaining appropriate hormone balance in combination with supporting nutrients, resulting in healthier, more productive crops that are better able to withstand stress and achieve their full genetic potential.
In agribusiness for more than 40 years, StollerUSA markets a full line of products to help farmers increase crop yield and quality. StollerUSA, headquartered in Houston, is actively researching and developing micronutrients and other products in more than 50 countries. For more information on StollerUSA, visit http://www.StollerUSA.com.
###