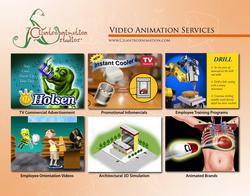 Miami, FL (PRWEB) February 18, 2009
The Florida Regional Minority Business Council (FRMBC) announced today Cilantro Animation Studios met its requirements as a minority owned company, as defined by the National Minority Supplier Development Council (NMSDC). As a result, the FRMBC granted Cilantro Animation Studios the 2009 Minority Business Enterprise Certification.
The Florida Regional Minority Business Council is a non-profit organization, part of 39 affiliate councils nationwide, established to foster the development and expansion of minority-owned businesses. It is a network comprised of more than 3,500 fortune 500 companies of a wide variety of industries interested in doing business with minority-owned companies. Through the certification, the FRMBC assures the corporate buyer that an individual business is truly minority-owned, operated, and controlled.
"We are thrilled to have been granted this certification from the FRMBC," commented Salvatore Cavalieri, CEO and Chief Animator at Cilantro Animation Studios. "With our company's recent expansion into the New York and Los Angeles areas, we are also eager to expand our customer base to those who value supplier diversity nationwide, and we believe our FRMBC certification will help us position for further growth."
The FRMBC is a trustworthy and professionally recognized organization that brings together suppliers and buyers in today's diverse marketplace. They offer innovative programs and match-making events, coupled with services that support the success of both its certified minority-owned businesses and its corporate members. "FRMBC creates opportunities for buyers and suppliers to build relationships and network with each other in order to reach mutual success, says FRMBC Council's Director of Certification and Business Advisory Services Oswaldo Casco. "As a FRMBC member, Cilantro Animation Studios joins an elite group of MBE's in south Florida that has access to over 100 buyers in our region alone."
About Cilantro Animation Studios:
Cilantro Animation Studios is an all-encompassing Multimedia 360 Services firm utilizing the latest in computer animation technology to develop Computer Graphic Animation in different techniques including 3D (CGI), 2D, and Flash for marketing campaigns, virtual tour projects, training or instructional videos, interactive software applications, webisodes, and mobisodes. The company serves such industries as the entertainment, advertising, gaming, architecture, medical and educational industries, to name a few.
For more information about Cilantro Animation Studios visit http://www.cilantroanimation.com/ ; email info@cilantroanimation.com ; or write Cilantro Animation Studios, 1200 North Federal Highway, Suite 200, Boca Raton, Florida, 33432; Or Phone/Fax (866)741-6075.
###