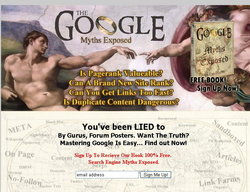 People still believe stories that were told in 2005
Langley, BC (PRWEB) February 18, 2009
Daniel J Deyette spent the last 7 years analyzing his sites and client sites trying to understand the stories floating around the internet about how Google really worked. Like many in the internet marketing industry, he was always reading about the "Sandbox Effect" or about how some link strategy had banned a website.
"People still believe stories that were told in 2005" Says Deyette, author of the new book "Google Myths Exposed". "I just wanted to find a way to express everything I've learned, following the experts, listening and leaning on every word Matt Cutts and the Google Webmaster Central websites said."
While Deyette's book is not created, authorized, or endorsed by Google, it does quote many Google authorized sources and offer's an intriguing insight into questions that website owners and marketers have been asking since Google's inception in 1998.
Questions like:
Is Pagerank the most important thing ever?
Can a brand new website rank easily in Google?
Will Google ban your site for duplicate content?
Does Google hate SEO professionals?
Does Google like sites with ads on them?
The biggest challenge today is, with so many experts, who do you turn to for honest factual advice? Deyette includes many resources and links to noted authors and websites that are known to be great resources and respected experts in their field.
Deyette 's book launched this week and instantly had over 80 people per day looking to find more information. You can get a copy of his book free on his website at http://www.googlemythkiller.com.
Deyette came up with this idea when he started up a site designed to help webmasters get more website traffic called http://www.thetrafficbible.com. He then added a blog called competitiondemoliton.com and continued to get questions from the newsletter subscribers about challenges with Google.
Deyette's been actively involved with Online Marketing and has helped over 100 websites with keyword research, optimization and paid advertising since 1996. Deyette's the owner of AnswersWanted Services Inc, helping people find answers to common online marketing problems.
Daniel J Deyette
AnswersWanted Services Inc
http://www.answerswanted.com
P.O. BOX 1195
Aldergrove, BC
v4w 2v1
Canada
###