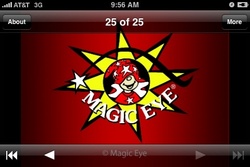 It's amazing to bring Magic Eye to Apple's App Store
Kansas City, MO (PRWEB) February 17, 2009
Uclick, the #1 provider of mobile and on-line humor and comics, announced today that Magic Eye, the 3-D Image craze that magically turns a seemingly two-dimensional image into an eye popping illusion, is now available on Apple's App Store.
Originally published in the 1990s, Magic Eye quickly became a sensation selling more than 20 million copies. Magic Eye I, II, and II appeared on the New York Times Best-seller list for a combined 73 weeks. Now the Magic Eye phenomenon is making its way to the revolutionary iPhone and iPod touch, where the "hidden picture" and 3-D images seemingly emerge from the stunning Multi-Touch display.
"It's amazing to bring Magic Eye to Apple's App Store," said Uclick CEO, Douglas Edwards. "The images look great on the revolutionary iPhone and iPod touch and seem to come to life and jump from the stunning display. It's something you have to see to believe."
Magic Eye fans - veterans and newcomers alike - will enjoy delving into this great collection of mind-bending illusions.
Magic Eye is available for $2.99 from Apple's App Store on iPhone and iPod touch or at http://itunes.apple.com/WebObjects/MZStore.woa/wa/viewSoftware?id=304466075&mt=8
About UCLICK:
UCLICK® is the leading digital entertainment provider of humor, comic strips, manga, graphic novels, editorial cartoons, and other content for desktop, web and mobile phones. Uclick is also the leading creator and distributor of crosswords, and other word and number puzzles. Partners featuring Uclick content include the leading consumer portals Yahoo!, MSNBC.com, New York Times, Slate.com, washingtonpost.com, CNN, USA Today, and AOL. Uclick features include the top brand franchises Garfield, Doonesbury, Calvin and Hobbes, Paul Frank, Teenage Mutant Ninja Turtles, TOKYOPOP, USA Today, Pat Sajak, Wyland, and many more. Uclick creative content and services are available through the GoComics.com website, U.S. mobile phone operators, the iTunes App Store, and other distributors worldwide. UCLICK, LLC is a division of Andrews McMeel Universal, the leading newspaper syndicate and publisher of humor books and calendars in North America. For more information on Uclick, visit http://www.uclick.com.
###