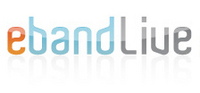 A band's ebandLive site is designed to be the 'hub' of their band. However, it's not meant to be a replacement for MySpace, Facebook or Twitter
Minneapolis, MN (PRWEB) February 18, 2009
ebandLive, a provider of an innovative new wave in web development for the music industry, has officially announced its integration of Google Friend Connect into its custom band websites.
Google Friend Connect Integration:
Google Friend Connect integration into ebandLive custom websites means more fans engaging more deeply with the band's website and with each other. Anyone can join the band's website with one click by using their existing Google, Yahoo! and other accounts. Fans can evangelize for the band by inviting their friends and publishing their activities to their social networks.
With ebandLive and Google Friend Connect, fans can:

Sign into their favorite ebandLive band website with their Google, Yahoo!, AIM or OpenID account
Interact with other fans by making friends, sharing media and posting comments
Invite friends from other social networks and contact lists to join their favorite band's ebandLive website
Social Networking Features:
In addition to Google Friend Connect, ebandLive has officially announced the integration of social networking features that include posting band Blog, News and Shows information to MySpace, Facebook and Twitter. These features are available to every ebandLive customer through the Backstage (Content Management System) and have been implemented in such a way that the band does not need to re-type the information.
"ebandLive allows you to easily manage your band in many ways and just one of those ways is by making it extremely easy to 'socially network' through Google Friend Connect, MySpace, Facebook and Twitter in order to grow your fan base and gain recognition. Coupled together with ebandLive's professional design, affordability and ease of use makes choosing us an easy decision," said Dan Behrens, Partner and Creative Director for ebandLive.
"A band's ebandLive site is designed to be the 'hub' of their band. However, it's not meant to be a replacement for MySpace, Facebook or Twitter," said Behrens. "We highly encourage artists to take full advantage of social networking sites if they are not already using them. While they do not make good standalone band websites, their social networking aspects combined with the power of an ebandLive website can easily spell a band's success!"
The company's new Google Friend Connect feature will be automatically integrated into all future custom websites while existing custom clients have the option of opting in. Social networking features, such as sharing band content on MySpace, Facebook and Twitter, are already available. Visit http://www.ebandlive.com for more information.
About ebandLive:
ebandLive is a provider of an innovative new wave in website development for the music industry built on solid music industry experience. Headquartered in Minneapolis, Minn., ebandLive is led by founder Jeremiah Talamantes and partner Dan Behrens. Talamantes taps into his rich experience from both owning and operating an independent record label and multimedia design firm as well as working for an established record label. Business partner, Dan Behrens, brings forth his experience owning and operating an artist management company as well as designing creative content from big name musical acts to the corporate giants. Both individuals are active musicians who are devoted to developing creative websites for musicians of all genres.
###