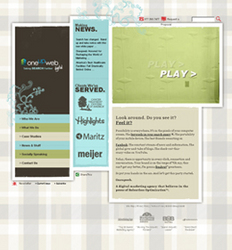 Search has changed, and it's time for marketers to recognize how
Traverse City, MI (Vocus) February 18, 2009
Search is changing, and Oneupweb is right there with it. Along with the announcement of an important position paper on the current state of the industry, the digital marketing leader has launched a new website as part of their rebranding process.
"Search has changed, and it's time for marketers to recognize how," says Oneupweb Founder and CEO Lisa Wehr. "We felt the time was right to really take a look at who we are and what we do, and how we portray that to our current and prospective clients. I think our new website proves that we not only understand digital marketing, we're ahead of most of the search marketing industry."
Known as a leader for more than a decade, Oneupweb certainly understands the changing world of online marketing. In their latest paper entitled The Fusion of Search and Social Media, the digital marketing company comes right out and says that marketers need to change how they look at search, or risk loss of sales and market share.
"Most companies don't understand how to utilize social media beyond connecting with old friends. Our objective is to put the social scene in perspective and demonstrate its marketing power," says Wehr. "It's the next big opportunity, and now's the time to determine how it applies to every company."
That kind of trend setting, mixed with a healthy dose of humor and a habit to tell it like it is, are Oneupweb character traits that are quite evident with their new website redesign. Wehr explains that the website is designed to exhibit the Oneupweb personality, which she describes as down to Earth and fun with a strong Midwestern work ethic. But personality isn't the only reason Oneupweb embarked on the rebrand process.
"We wanted to really speak to, and with, our audience. Online marketing is a constantly changing field, and we needed to convey to our current and prospective customers that we get it, and we can help them get it, too," explains Wehr. "It comes down to doing the best work for our clients. That's something we've been focused on since day one, and this rebrand is no different."
To download Oneupweb's new paper and check out their new website, please visit OneUpWeb.com.
About Oneupweb
Oneupweb has been an innovator in digital marketing for more than a decade, creating integrated online marketing plans that incorporate natural search engine optimization (SEO), paid search marketing (PPC), conversion improvement and analytics, podcast production, social media marketing, online media planning and placement and search marketing consultation for in-house marketing teams. Heralded by an independent research firm for their leadership team, Midwestern work ethic and solid experience in optimizing complicated sites, Oneupweb has twice been named a Top 20 Search Marketing Agency by Advertising Age and CEO Lisa Wehr is recognized as an Ernst & Young Entrepreneur of the Year. The company publishes an award-winning blog and podcast entitled StraightUpSearch. Oneupweb is a privately held company located in Traverse City, Michigan. For more information on Oneupweb, please call 231.922.9977 or visit OneUpWeb.com.
###