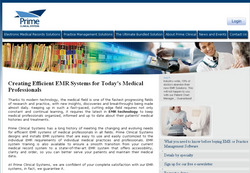 The value of an Electronic Medical Office (EMO) really cannot be overstated. Physician practices of all sizes stand to deliver better care, streamline workflow, and cut costs if they implement the correct EMR management system, or EMO
Pasadena, CA (PRWEB) February 18, 2009
Prime Clinical Systems offers Patient Chart Manager, an electronic medical records software solution with proven results, for increasing office efficiency and automating workflows within any medical practice. This EMR solution can help physicians and medical practitioners achieve a 100% paperless office environment as well as increase the reimbursements to the practice.
Medical practice management and EMR software solutions in the past have been inconsistently utilized and Prime Clinical has found that nearly 20 percent of providers abandon their EMR software. Some stop using their EMR software altogether, some try another EMR solution, and some even return to a paper-based system. A similar percentage said they have an EMR system that faces physician resistance. Patient Chart Manager provides a real solution.
"The value of an Electronic Medical Office (EMO) really cannot be overstated. Physician practices of all sizes stand to deliver better care, streamline workflow, and cut costs if they implement the correct EMR management system, or EMO," says Barry Ardelan, CEO of Prime Clinical. "That's why Prime has become part of this important initiative that will make it easier for any medical practice to realize these very valuable benefits."
Prime Clinical has organically grown its business from a vision in 1983 to a company that now serves more than 10,000 physicians across the country by providing advanced healthcare practice management, streamlined document management methods, and electronic medical records systems with a strong focus on customer service.
"This unique approach has resulted in the retention of health care organization clients for the long haul," Ardelan says. "We are celebrating our silver anniversary and that, in and of itself, is quite an accomplishment considering the dynamics of the health care field. We are unique and different in that unlike so many of our competitors during the past quarter of a century, we have not changed our name. We have not merged with other companies. We have not added clients by acquisition. We have not grown through venture capital," states Ardelan.
The most notable features of Patient Chart Manager, the EMR management solutions software, are the completely flexible and totally customizable solutions for the medical practice. Not only is every practice different, but the people, providers and non-providers, in that office are different. Patient Chart Manager allows them all to customize the software to their specifications.
For more information on Patient Chart Manager or Prime Clinical Systems, visit primeclinical.com.
About Barry Ardelan and Prime Clinical Systems:
Prime Clinical Systems is a privately held company that houses a team of software developers and on-staff doctors to continually monitor, improve, and upgrade product lines. Recently, Medicare worked with Prime Clinical to develop HIPAA law-compliant software to set the industry standard. The company offers a broad scope of electronic medical records software and other EMR management solutions to meet the needs of any practice, regardless of size or specialty.
Barry Ardelan is the President and co-founder of Prime Clinical Systems and has provided services and software to more than 10,000 physicians across the country since the company's inception in 1983.
###