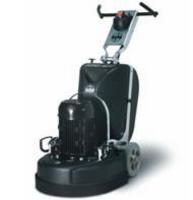 Yucaipa, CA (PRWEB) February 19, 2009
Polishing equipment and techniques have seen some major advances as of recently. The process of sorting through the numerous equipment options and manufacturers can be time consuming and difficult. ConcreteNetwork.com offers an updated buyer's guide on polishing equipment covering polishing basics, a checklist of the tools and supplies needed, and tips for purchasing the right polishing equipment.
As with any other specialized technique, polishing is a multi-step process requiring use of the proper tools and equipment to achieve top-quality results. Polishing concrete is very similar to sanding wood--machines are equipped with diamond-segmented abrasives, much like sandpaper. These are used to grind down concrete surfaces to the desired degree of shine and smoothness.
An essential piece of equipment for any polishing project is a floor polisher. It is important to look for a machine with a planetary drive system, a large primary polishing head fitted with three or four smaller satellite heads that hold the diamond abrasives.
There are several other pieces of equipment and supplies needed to successfully finish a polished concrete floor including a hand-held polisher for edges and tight spots, penetrating chemical hardener, dust collection equipment, diamond segmented abrasives and much more highlighted in this buyer's guide.
For more detailed information on today's innovations in concrete polishing equipment and the benefits of concrete polishing for concrete floors, visit The Concrete Network's concrete polishing section for more extensive articles.
Read more about concrete.
Established in 1999, The Concrete Network's purpose is to educate consumers, builders, and contractors on popular decorative concrete techniques, applications, and products. This includes concrete stains, equipment, sealers, tools, and materials. Now in its 10th year, The Concrete Network Website had over 10.2 million visitors in 2008 researching decorative concrete.
The site excels at connecting contractors with concrete products suppliers through its Concrete Product Directory Concrete Products service. The service provides visitors with a list of decorative concrete manufacturers throughout the U.S. and Canada, as well as local decorative concrete supply stores.
Photos courtesy of HTC-America.
###