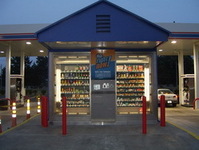 We have aggressive goals for where our company will be by 2010 and we welcome discussions with qualified candidates.
Syracuse, NY (PRWEB) February 23, 2009
Air Innovations® Inc. is initiating a national search for a strategic acquisition, Air Innovations President and CEO Michael Wetzel, P.E. announced today. The company creates specialty air conditioning and environmental control solutions for original equipment manufacturers(OEMs) around the world. The company's focus is on the design, test and manufacture of products that require precise control of temperature, humidity, pressure, and air filtration. These are used in military, homeland security, R&D, healthcare, electronics, industrial, and retail applications. "Air Innovations believes in growth by advancing its current brands and developing new products, especially those integrated into OEM equipment, as well as by acquisition in our target markets," Wetzel said. "We have aggressive goals for where our company will be by 2010 and we welcome discussions with qualified candidates."
Air Innovations is a small business provider to U.S. Department of Defense contractors. The company's exclusive sole-sourced contracts for OEM customers include environmental control units (ECUs) that:

cool detection equipment in airport baggage screening devices to ensure
optimal performance;

keep air cool and dry inside medical diagnostics machines to ensure process
chemical integrity; and,

protect guidance systems in unmanned aerial vehicles from extreme temperature and humidity during deployment in harsh outdoor conditions.
Branded products include those that:
condition critical environments used by research laboratories, electronics and
pharmaceutical companies (AdvancAir®);

create negative or positively pressurized hospital rooms to protect
infectious disease, burn, trauma or immuno-compromised patients (IsolationAir®);

condition the air in wine cellars (Wine Guardian®); and,
keep flowers sold in supermarkets fresh longer (Floratech®).
Air Innovations provides services such as concept development, prototyping and testing, as well as made-in-the-USA manufacturing, regulatory submissions and international distribution. The company, established in 1986, is headquartered in Syracuse, NY, a region known as a global leader in environmental and energy systems.
To learn more about Air Innovations' specialized air conditioning and environmental control solutions, visit http://www.airinnovations.com. To discuss the company's merger and acquisition criteria in greater detail, contact Dave Mosher, Mosher Financial Group, Ltd., dmosher(at)mosherltd.com or 802-492-2405.
###