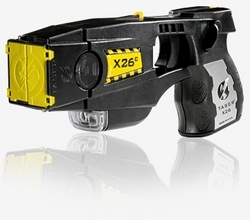 If we can use less lethal force
New York, NY (PRWEB) February 19, 2009
DefendWell.com, an online retailer of stun guns, pepper spray and other self defense products, notes an increase in the adoption of stun guns by police departments in the United States and Canada. When used appropriately, many experts believe that stun guns can serve as an effective nonlethal option for personal protection.
DeKalb County, Georgia, home to both Decatur and a portion of Atlanta, recently approved a plan to provide 1,000 county police officers with "electronic control devices" - stun guns and tasers. The use of stun guns was recommended last year, but the use of stun weapons was banned by the previous county administration.
To the north, the small town of Caernarvon Township, Pennsylvania, near the city of Reading, is also investing in stun guns for its much smaller force - the township is buying three stun guns and typically has two officers on patrol. The officers in Carnarvon are currently armed with pepper spray in addition to the usual baton and firearm. "If we can use less lethal force," says township police chief Paul R. Stoltz, "everyone goes home at the end of the day."
This increased adoption of stun guns by law enforcement comes even as debate rages over the use of the devices. A new Canadian policy restricts the use of stun weapons on suspects who resist arrest or refuse to cooperate with police. The use of tasers and stun guns must now be justified as a necessary and reasonable use of force.
About DefendWell.com:
DefendWell.com is a one-stop shop for pepper spray, stun guns, and other self defense products - everything you need to Defend Well. We urge potential stun gun buyers to check local and state regulations regarding the possession and use of stun guns or tasers before buying, carrying or discharging one.
###