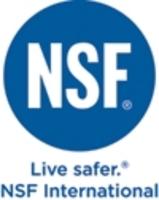 NSF's ISO 17025 accreditation has been the foundation for our plastic pipes, mechanical plumbing, food equipment and pools testing programs since 1996
Ann Arbor, MI (Vocus) February 18, 2009 -–
NSF International, a public health organization, today announced it has expanded the scope of its ANS/ISO/IEC Standard 17025: General Criteria for the Competence of Testing and Calibration Laboratories accreditation to include toys and consumer product testing. International Accreditation Service (IAS) accreditation confirms that toy testing performed by NSF laboratories is conducted in compliance with U.S. and international standards, as well as to the requirements set by the new Consumer Product Safety Improvement Act (CPSIA).
To help assure that safer toys are making their way to U.S. consumers, lawmakers introduced the CPSIA, which was signed into law on August 14, 2008 by President Bush. The act includes requirements for lead and a ban on certain phthalates in products designed for children 12 and younger.
As of February 10, 2009, all toys must comply with the requirements established for total lead content, phthalates and mandatory toy standards under ASTM F 963: Consumer Safety Specification on Toy Safety. Third-party testing will be required to support certification to the CPSIA regulations for toys and children's products.
Although the U.S. Consumer Product Safety Commission (CPSC) has voted to grant a one-year stay of enforcement for third-party testing and certification requirements, manufacturers of toys are still required to comply with the regulations for total lead content (600 ppm maximum limit) and phthalates (1000 ppm maximum limit), as well as with the mandatory toy standards under ASTM F 963. In addition, manufacturers are still required to have third-party testing for pacifiers, cribs, children's products with small parts, and lead in paint.
Regardless of the one-year extension, toy manufacturers are urged to act now as major U.S. toy retailers are requiring third-party testing to verify that toys sold in their stores have met the requirements by the set deadline.
California's Proposition 65 already requires third-party testing for toys sold in the State of California to verify that manufacturers meet the requirements established for lead and phthalates.
The one-year extension was designed to give the CPSC the opportunity to establish rules needed for implementation of the lead provisions, time to rule on exemptions and exclusions from select provisions and provide detailed guidance, particularly for home-based manufacturers of toys that may have difficulty meeting the new requirements.
The CPSIA will be implementing increasing levels of regulation over time with the next deadline for toy manufacturers set for August 14, 2009. Click here to view a timeline of key dates.
"NSF's ISO 17025 accreditation has been the foundation for our plastic pipes, mechanical plumbing, food equipment and pools testing programs since 1996," said Bob Frayer, Director of NSF's Engineering Laboratories. "Now that we have ISO 17025 accreditation for consumer product testing, we can provide toy manufacturers with additional testing services to help them meet the new requirements set forth by the CPSIA."
The NSF Toy Safety program tests a product and its components for several aspects of toy safety, including heavy metal testing (lead and others), mechanical and physical safety, flammability, chemical composition, phthalate content and electrical safety. NSF can help manufacturers develop a customized laboratory testing program that results in time and cost savings by avoiding unnecessary testing. For example, if the same material is being used, it only needs to be tested once. Batching discounts are also offered if several similar toys need to be tested for lead, these toys can be tested together.
Please contact Dave Parzen, Technical Manager of Toy Safety, at 734.827.6859 or parzen(at)nsf.org or visit http://www.playsafer.org for more information on the new legislation. A play safer fact kit is also available for consumers on NSF's Web site.
About NSF International: NSF International, an independent, not-for-profit organization, helps protect you by certifying products and writing standards for food, water and consumer goods (http://www.nsf.org). Founded in 1944, NSF is committed to protecting public health and safety worldwide. NSF is a World Health Organization Collaborating Centre for Food and Water Safety and Indoor Environment. Additional services include safety audits for the food and water industries, management systems registrations delivered through NSF International Strategic Registrations, organic certification provided by Quality Assurance International and education through the NSF Center for Public Health Education.
###