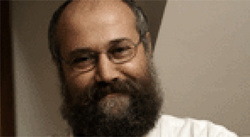 The single most important trend that we're seeing today is the rise of the social
San Francisco, CA (PRWEB) February 19, 2009
Considered one of the leading intellectuals of the information age, Yochai Benkler, Berkman Professor of Entrepreneurial Legal Studies at Harvard and author of The Wealth of Networks, says the development of the Internet has given rise to large, new collaborative social products and services, such as Wikipedia and open source software, which in turn are reshaping and transforming our economy and society.
An audio interview with Benkler about the emerging online information economy based on collaboration and sharing is featured on IdeasProject, a unique website developed by Nokia. IdeasProject is an online space that provides a new way to interact with thought leaders and their big ideas about the future of connected communications. For more on Benkler's idea, visit http://www.ideasproject.com/people.webui?id=1234.
"The single most important trend that we're seeing today is the rise of the social," said Benkler. "It is about people producing things in social relations with each other. This includes the rise of social motivations and people beginning to understand themselves in responding not only to preferences, prices, and specific measurable qualities, but also to social motivations and a sense of who the person is."
"Yochai's work on collaborative projects and the idea of 'productive' social relationships challenges the entrenched industrial information economy, and serves as one of the big ideas we want to promote as part of the future of communications," said Valerie Buckingham, director of technology marketing, Nokia. "The IdeasProject welcomes Yochai's contribution to the digital landscape, and we look forward to featuring new contributors in the coming months."
For the next three months, visitors to ideasproject.com have the opportunity to submit their own Big Idea. Editors will be regularly highlighting their favorite ideas, and sending a Nokia N95 to the Big Thinker who was selected. We'll also be featuring our favorite visitor-contributed Big Ideas along with the ideas of other ideasproject.com contributors.
About Yochai Benkler:
Yochai Benkler writes and lectures about the Internet and the emergence of networked economy and society, as well as the organization of infrastructure, such as wireless communications. In the 1990s he played a role in characterizing the centrality of information common to innovation, information production, and freedom in both its autonomy and democracy senses. Most recently, he worked more on the sources and economic and political significance of radically decentralized individual action and collaboration in the production of information, knowledge and culture. His work traverses a wide range of disciplines and sectors, and is taught in a variety of professional schools and academic departments.
About IdeasProject:
IdeasProject, a project of Nokia hosted at http://www.ideasproject.com, brings together the most visionary and influential "big thinkers" to contemplate the big ideas that matter most to the future of communications. It is a new kind of conversation platform aimed at uncovering the connections between these thought leaders and their disruptive ideas. Explore the IdeasProject website, subscribe to its RSS feed, join its Twitter feed (IdeasProject), and come back often to learn about great new big ideas as they break.
About Nokia:
Nokia is the world leader in mobility, driving the transformation and growth of the converging Internet and communications industries. We make a wide range of mobile devices with services and software that enable people to experience music, navigation, video, television, imaging, games, business mobility and more. Developing and growing our offering of consumer Internet services, as well as our enterprise solutions and software, is a key area of focus. We also provide equipment, solutions and services for communications networks through Nokia Siemens Networks.
###