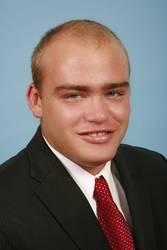 Charlotte, NC (PRWEB) February 19, 2009
Company officials of tesa tape, inc., a global leader in the manufacture and supply of pressure-sensitive adhesive tapes, are pleased to announce that Sean Struble has accepted the position of National Marine Sales Specialist. In this role, Mr. Struble will be responsible for adhesive tape sales and service to boat and yacht builders and suppliers throughout the United States. For his new position, Mr. Struble relocated to Tampa, Florida, from Atlanta, Georgia.
Prior to his new appointment, Mr. Struble served tesa as a Sales Specialist covering industrial markets in the Southeastern United States and as a Marketing Product Manager.
About tesa tape, inc.:
For over a century, tesa tape (http://www.tesatape.com) has pioneered the development of pressure-sensitive adhesive tape technologies. This rich tradition of innovation dates back to 1882 when the company's founder patented a method for manufacturing medical adhesive dressings. With this invention came the beginning of a global enterprise dedicated to the development and promotion of advanced adhesive tape solutions. Today, this worldwide company services customers in over 100 countries around the globe and holds numerous product patents. In North America, tesa markets many diverse product lines including double-sided fastening tapes, masking tapes and associated products, packaging tapes, duct and cloth tapes, and many specialty tape products. At tesa, it is our charter to provide our customers with service levels and applications expertise that are second to none in the industry. With this as our goal, we stand committed to providing adhesive tape solutions beyond the roll.
###