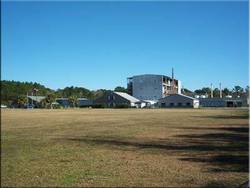 Any industry that requires the use of large quantities of water in its manufacturing or production process has a need for a waste water treatment facility. The site is fully permitted and offers its future owner millions of dollars in savings when compared to new construction cost and permitting of a like facility
Seabrook, SC (PRWEB) February 19, 2009
Higgenbotham Auctioneers International (HAI) announced today that their firm has been retained to offer at auction a former ArrMaz Custom Chemicals Industrial Plant on Friday, March 6th at 11:00am. The auction will be held onsite at 23 John Meeks Way, Seabrook, South Carolina. This is a public auction with a preview and tours scheduled for Friday February 20th and Thursday March 5th from 10am to 4pm.
On the auction block is an industrial complex with a National Pollutant Discharge Elimination System (NPDES) permitted water treatment facility on 245± acres. The complex and acreage are being offered in six parcels with two parcels being sold absolute to the last and highest bidder. This industrial plant was formally operated by ArrMaz Custom Chemicals a privately held specialty chemical manufacturer, headquartered in Mulberry, Florida.
ArrMaz acquired the Seabrook plant in early 2005 from Nufarm Specialty Products and records indicate that during the height of its production the plant had 95 employees. The plant began operations in the1960's and produced paints and dyes for commercial industries across the globe. An anti-caking coating for ammonium nitrate fertilizer was one of the facility's main products.
"Any industry that requires the use of large quantities of water in its manufacturing or production process has a need for a waste water treatment facility. The site is fully permitted and offers its future owner millions of dollars in savings when compared to new construction cost and permitting of a like facility," stated John Haney, General Manger for HAI.
This offering enables an end user or manufacturer a modifiable facility that can be operational within a short timeframe.
The water treatment plant is currently operating and features

Two Aeration tanks
500,000 gal/day discharge with outgoing tide
Two retention basins
Equalization basin
Auction Tract Descriptions;
Tract 1 - 130± Acres - Industrial Plant / Wastewater Facility
8 BUILDINGS TOTALING - over 60,000± SF constructed between 1966 & 1998
Buildings include the following:
Administrative Office - 2 story, 4,540± SF total - conference room - built in 1990
Main Warehouse - 30,821± SF total - offices - mens/womens restrooms - working truck scales
Production Area - 4 story - 10,327± SF total - Vertical Production Line
Breakroom - 2,525± SF total - kitchen, dining area, mens restroom/showers, womens, restroom/showers, separate mens & womens locker rooms - built in 1998
Lab - 2 story, 4,650± SF total - offices upstairs - built in 1995
Maintenance Shop - 4,680± SF total - built in 1966
Maintenance Shop Shed - 6,225± SF total - built in 1966
Maintenance Warehouse - 6,975± SF total - built in 1966
Wastewater Treatment Lab - 800± SF total - built in 1976
Wastewater Facility - 2 Aeration tanks - 500,000 gallons/day can be dumped on outgoing tide - 2 retention basins - equalization basin
2 operating wells - 200,000 gallon water tank - boilers - asphalt & concrete paving - chain-link fence surrounding main site
Tract 2: 25± Wooded Acres zoned Industrial Park
Tract 3: 27± Wooded Acres zoned Industrial Park
Tract 4: 21± Wooded Acres zoned Industrial Park
Tract 5: 17± Wooded Acres zoned Rural (To be Sold ABSOLUTE)
Tract 6: 23± Wooded Acres zoned Rural (To be Sold ABSOLUTE)
About Higgenbotham Auctioneers:
Founded in 1959, Higgenbotham Auctioneers International (HAI) utilizes the auction method of marketing to sell real estate throughout the United States and the world. Higgenbotham's success is attributed to the company's stellar track record in marketing unique properties and the firm enjoys continuing relationships with Fortune 500 clients such as Alcoa, Wal-Mart, and Albertson's Supermarkets, as well as many publicly traded and closely held companies.
For more information about this auction please contact Earl Williams at Higgenbotham Auctioneers 800-257-4161 or visit our website at Higgenbotham.com.
###